Don't you just hate it when you are talking on your mobile phone and all of a sudden the call is dropped? Another situation - you are at work and making an important business call, and you lose the signal because your cell phone provider is not able to provide stable connection. Or one of the common problems with traveling or simply going from work to home, or vice versa, is the fact that you might not be in range of a cell tower for cell phone user. Such situations are not exceptions, they are rather a rule in everyday life of many people.
---
If you are fed up with bad signal reception and constant call drops, just try a cell phone booster and you will not loose a single call. You won't have to say the words "Can you hear me now?" ever again.  What you need for that is to know ins and outs of cellular repeater installation.
Mobile phone boosters: do they work?
Some people say that their cell phone booster is not efficient, however the issue is problem with mobile amplifier antenna installation or wrongly assembled equipment. So, mobile phone boosters: do they work, really? As not to get into the same trap as many others, learn the following steps and tips for proper repeater installation. Correct cellular repeater installation is a token of successful functioning of the device.
There are two types of outdoor antennas – yagi and omni - which depends on the model of a booster. Omni directional antenna is very easy to install, while yagi has to be directed strictly to the nearest mobile base station. Some people manage to do in within several minutes, but others spend a hour to verify the right direction. While searching for the direction, keep a cell near so as to see improvement of the signal.The problem with mobile repeater antenna setup is the most frequent reason why the whole equipment doesn't operate.
Think of the best placement of both antennas. Remember that in order to avoid interference the indoor antenna should be installed at least 5 meters away from the outdoor antenna. Besides, place the indoor antenna at least 2 meters above the ground. Avoid problem with mobile phone booster antenna by following instrucions to the cellular booster step by step.
When you are ready with the antennas plug their interfaces into cell phone repeater and fasten them tightly. You will learn about which antenna into which jack is plugged in the manual to your mobile amplifier as they have different constructions. The whole process of cellular repeater setup will be shown as it goes.
Take into acount during mobile repeater setup that in order to strengthen the signal and reduce wastage, shorten the cable as much as possible. The shorter the cable is, the better reception will be.
In case you want to install two or more indoor antennas (on different floors or rooms), you can order an extra tool – power splitter that can be two-way, three-way and four-way. Mobile  phone repeater installation gets a bit more puzzling as you need to mount several antennas choosing the adecuate location for each one.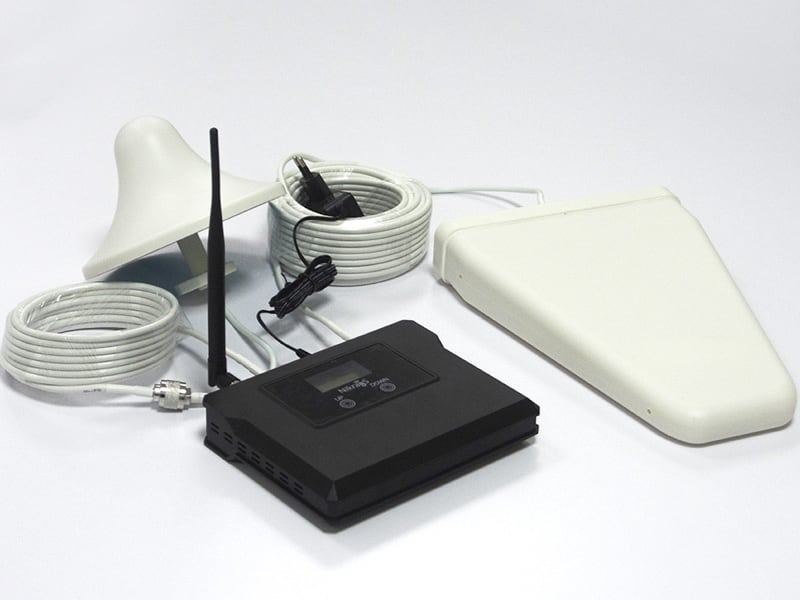 When all the components are installed and plugged in, connect the cell repeater to the power supply, is the indicator is on it means that you have done it all right. The cell phone repeater installation is over.
And the last tip – avoid lightning strikes, spare your money. That is actual for most users living in private houses. For that after signal repeater setup we advise you to install a lightning rod next to the outside antenna.
Whichever type or brand of cell phone signal booster you choose to purchase, all work very well and cellular repeater installation is pretty easy when you follow instructions. And as a result you get reliable connection, more bars on your cell, better reception, stronger signal and no missed or dropped calls any more. That is what you get buying a booster. If you are interested in additional advice, feel free to ask Myamplifiers.com team.