O2 is one of the largest telecommunication services providers in the United Kingdom that every year attracts thousands of new clients. The history of the O2 company began nearly 40 years ago but under the current name, it became known only in 2002. The brand participated in a number of different deals that resulted in changes of its owner. The latest of them took place on 1 June 2021 when O2 and Virgin Media merged to create Virgin Media O2.

O2 mobile services
Actually, the range of services offered by O2 doesn't differ from the majority of offerings provided by other leading operators in Europe. You can become a customer of O2 opting for a SIM-only deal, a service contract or a pay-as-you-go plan.
What makes it really special is its focus on various special deals and free gifts for its clients.
O2 Priority is a reward scheme for O2 users. It is available via a mobile application and provides a practically endless row of discounts and prizes. Those O2 subscribers who use the app wisely have the possibility to save quite impressive amounts of money.
The coverage ensured by this carrier is excellent. Over 99% of the country's population can use the signal for making calls and exchange mobile data. Just imagine, already in 2017, 98% of people in the UK could get access to the 4G connection. Moreover, the company is actively working on the expansion of its 5G network.

But let's have a look at the advantages of using the services of this operator in comparison to disadvantages of this option.
Benefits of using O2 services
Excellent coverage
A wide row of tariff plans
Very flexible contracts
A lot of special deals
Disadvantages of being a user of O2 mobile services
Rather high tariff fees
Lack of unlimited data plans
And actually, these disadvantages are quite often highlighted by users of O2 services. For example, Steve Kinsey from the UK wrote: "O2 are particularly bad at keeping you updated on better plans. I had a Pay As you Go data and calls plan and have been able to switch to EE and get 12 times as much data for the same price and equivalent calls etc."
Mark Davison also left a quite disappointing comment specifying an inappropriate quality of customer support: "I need to speak to a human again at 02. Does anyone have a telephone number for a human in customer services. The most annoying mobile company I've dealt with."
But it's really worth listening to the customers that have an opposite opinion. For example, Don also shared his thoughts: "Recently I purchased a sim card from o2. This sim deal gave me 18GB of 4G data, unlimited texts and unlimited calls all for £20 a month. This was ideal for me as I am a student and needed all those texts and data. The customer service on the website was fantastic and the setup of my sim card was easy thanks to the online tutorials. Overall I would rate my experience with o2 as 5 star and would highly recommend you go to them for a sim deal, especially if you are a student on a budget."
And a user called John has very positive impressions: "O2 aren't the cheapest but their prices are fair on iPhones which I recently took out with a new contract. I've been with EE for years but couldn't stomach their greedy antics on the iPhone X and even their 4G can be patchy in London. No problems with O2 so far who have been nothing but helpful 50gb of data, free calls, free texts beat that EE!"
The fact that there are such different reviews means only one thing. Though the company is already well-established, there is still some space for improvements that definitely shouldn't be ignored.
However, if you are in general satisfied with the services provided by O2 but have some issues with its signal at home or in the office, we can offer you a couple of solutions. And you will have amazing signal without a necessity to choose another operator. If it sounds interesting, just keep reading this article.
How O2 signal booster can solve your problems with connection
For many people it may come as a surprise but it is really possible to deal with O2 signal issues without the involvement of an operator in this process. And no, it is not magic. It will be a fully scientific approach.
We offer you to consider a variant of installing a signal booster at the place where you have faced problems with O2 connection. Actually, the modern tech developments allow us to buy devices of this kind that will be appropriate for buildings of very different sizes.
To understand why a cell signal booster can help you, it is necessary to understand what it represents itself.
This device usually has several elements of equal importance. The set includes:
1 booster box (this element is responsible for amplifying the signal transmitted by your operator)
1 outdoor antenna (it is able to catch even the weakest signal that is not seen by your mobile devices)
1, 2 or 3 indoor antennas (the number depends on the configuration of a booster. But usually there is 1 antenna of this type. It sends the signal from the booster to all mobile devices within the coverage area of your repeater)
Cables and mountings
Probably you've already guessed how it all works. An outdoor antenna gets a signal, sends it to a booster box where it will be amplified and then an indoor antenna has to spread this signal.
Today there are a lot of models that are able to work with different frequency bands and, consequently, improve signals of different types. But we will consider this aspect a little bit later.
O2 mobile booster: how to install it
Though O2 signal amplifiers may have a quite different configuration, the principle of their installation will always stay the same. The main task for a new user of a booster will be to fix the antennas correctly in order to ensure their right functioning.
And outdoor antenna should be installed either on the roof, or somewhere near the window. In some cases it will be important to find the right direction of the antenna in order to allow it to catch the signal transmitted by the nearest cell tower of your operator. Some booster boxes have LCD screens where you will see the tips for installation.
An indoor antenna should be placed in a room where it will be able to send the signal to mobile devices. There are different antennas of this type. Some of them should be mounted on the ceiling, some others can be placed somewhere on the table, for example. As we've already mentioned, there are repeater models that have more than 1 indoor antenna.
Antennas should be connected to a booster box with coaxial cables that are, as a rule, included into the kit.
When you are choosing a booster, please, be very careful and read attentively whether a seller offers a full kit or you need to buy any elements additionally to make your device fully functional. For example, at MyAmplifiers, we always offer only those sets that can be used without any additional accessories.
We also advise you not to ignore installation manuals that a manufacturer usually provides. The results of you booster functioning will seriously depend on the way you install your device.
And now, when you've read all the general information, let's move on to the options that we offer you to consider if you want to improve your O2 GSM, 3G and/or 4G signals.
Featured boosters to improve O2 signal
Discount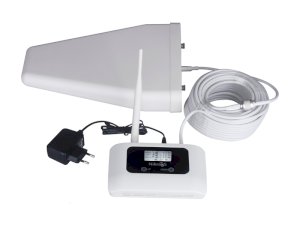 O2 signal repeater
4.9/5 — 184 Reviews
Coverage:1400 ft²
Calls
Discount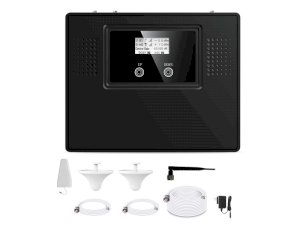 O2 cell phone amplifier
4.9/5 — 112 Reviews
Coverage:3300 ft²
Calls
4G/LTE
3G
Discount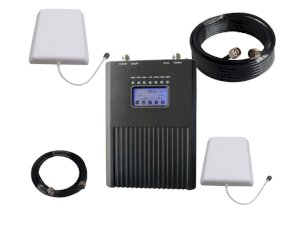 O2 repeater
4.9/5 — 136 Reviews
Coverage:3300 ft²
Calls
4G/LTE
3G
Choose the best way to solve O2 mobile signal issues right now!
DIY O2 signal booster
For those who are fond of creating different things and devices on their own, this option will definitely be the most appealing one. But is it really as attractive as it seems?

Yes, this device will be the cheapest one on our list but the efficiency and security of this booster is not guaranteed. But in any case, if you are confident in your skills and knowledge, you can try.
The investments that will be required may differ based on the items that you can buy in a shop or that you already have. So, what is necessary to build an O2 signal booster on your own?
a wire (0.35-0.4 m),
a coaxial cable (approximately 10 m),
2 connector blocks,
1 nut and 1 bolt,
1 simple plastic container,
1 water pipe.
If after reading this list you are still not afraid to try, you definitely should do that. On our website you can find excellent instructions on how to do it.
We've analyzed all pluses and minuses of DIY boosters and now are ready to share them.
Advantages of DIY boosters:
Very low investments are required.
You can sincerely enjoy the process.
Disadvantages of DIY boosters:
It can be rather challenging to find all the materials at once.
The security of the device and its correct functioning are not guaranteed.
You should have some technical skills to build a booster.
Time is required.
We believe this option can be a good one but not for everyone. So, just estimate your possibilities and if you decide to build a booster on your own, we wish you good luck!
"No-name" O2 booster
It's not a secret that today the internet is a real "wonderland" where you can find absolutely everything, especially on such websites are AliExpress or eBay. Yes, really, you can find practically anything that can only come up to your mind and an O2 signal booster won't be the most surprising thing. Some of the offered devices can have an unknown origin and can be extremely cheap. But be ready to face cases when you can buy a fake, not a real booster.

When you are buying a booster as well as a smartphone, a tablet, a laptop or any other device, pay attention to the platform where you are going to order it. Make sure that you will buy a high-quality device and that its producer has all the necessary certificates.
Advantages of very cheap no-name repeaters:
Price can be very attractive.
The buying process and the payments methods on such platforms as AliExpress are usually quite convenient.
Disadvantages of very cheap boosters:
The reliability of these devices is not guaranteed.
The delivery can take too much time.
The usage of the device produced by manufacturers with a rather controversial reputation can be harmful for your health.
But if you like risking and are ready to pay for a device that may turn out to be quite useless, this option will be a very suitable one.
Mobile signal booster for calls
If you are dissatisfied with the quality of your O2 GSM connection, you can consider buying a booster intended for amplifying this type of signal only.
Nikrans LCD-300 is just a perfect example of such a booster. It looks really modern, it is rather compact. But despite its size, it is rather powerful. The improved signal can be sent within the coverage area of 3300 ft².
The main point that you need to bear in mind if you want to buy this booster is that it is able to work with 1 frequency band only and, as a result, it improves only GSM signal. But in general, the device has very similar characteristics to what more expensive professional boosters have.
For example, it supports multiple mobile connections at the same time. It means that all your friends, family members or co-workers will be able to enjoy the improved connection when their devices will be located in the area of LCD-300 coverage.
Let's have a look at what users of this model say.
Sune Andresen from Denmark wrote: "Thank you for this cool device. It is a very comfortable solution for boosting your GSM connection. Finally, the calls are not a problem anymore for us and we can stay in touch with our relatives and friends."

Liam P. from Sweden has a similar opinion: "I bought it for my mum, she lives alone and it was really difficult for all of us when she couldn't call us it when we couldn't reach her. LCD-300 helped us to overcome these problems. It's a great device! Now I always recommend it to my friends who have similar problems."

Advantages of Nikrans LCD-300:
The booster has already shown excellent results in amplifying the signal of O2 in the UK.
The price is very pleasant
MyAmplifiers provides a warranty to all buyers.
The device has a very stylish design.
Disadvantages of Nikrans LCD-300:
The coverage won't be sufficient for large buildings.
The device is compatible with one frequency band only.
The price of this model on our website is £220 but right now we are offering a discount and you can buy it at a price of £180, saving £40. You can place an order following the link.
Universal booster for GSM, 3G and 4G networks
Nikrans LCD250-GSM+4G is a booster that is able to work with three types of signal. And what is even more important, all these signals can be improved at the same time. This model is really a universal solution for those who need to improve all types of O2 signal.
The coverage area of the device is 2700 ft2. It means that it will be a good option for cottages, private houses, offices, cafés, shops, and other places. The booster is energy-efficient as it has a special sleep mode that is turned on when there are no mobile devices within the area of its coverage.
As the experience of our clients shows, the installation process takes around 15 minutes if you read the manual provided together with the amplifier.
Sometimes the capacities of this booster turn out to go significantly beyond the expectations of our customers. "A very compact device that has enormous power. Even when my device arrived, I had some doubts about its capacities. Yes, I was quite skeptical. However, after I saw the results, I moved to the camp of huge fans of these boosters!" wrote Dennis Nyberg from Sweden.

Bella from Italy also shared her thoughts: "The booster works perfectly. We had no signal at all in the house so that it forced us to go outside. Now that we have the Nikrans for calls and 4G, we have three bars inside the house. That is excellent. The repeater really works. No garbled or dropped calls, no interruptions of 4G connection. It is great. I am completely satisfied with this product and would recommend it to anyone."

Advantages of Nikrans LCD250-GSM+4G:
The price is very good for a booster with such capacities.
It is compatible with all the signals transmitted by O2 and will be able to improve the signal of other operators if they use the same frequency bands.
The safety of the booster is proven by international certificates.
MyAmplifiers offers a lightning protector for free with this model.
You get a full kit.
Multiple connections of mobile devices are supported.
Disadvantages of Nikrans LCD250-GSM+4G:
The coverage is not the largest one among all the options that are available today.
You can read more about this booster here. The price with a discount is £335. Buy it now and save £100.
Advanced 5-band booster
Nikrans NS-300-Smart is an example of an innovative O2 cell signal booster that is compatible with 5 frequency bands which means that it can strengthen signals of different operators at the same time. As a result, this amplifier can boost GSM, 3G and 4G network signal simultaneously.
This model has a good coverage area of 3,300 ft2. You can install it at any small or middle-size premises, including offices, houses and apartments.
The booster box is enriched with a display with a touch screen that shows all the necessary information on the network status, signal strength indicators and allow adjusting the parameters quite easily.
Brian from the United Kingdom has already bought this booster. He wrote: "It's not my first booster. The first one that I bought in an ordinary offline store located in my neighbourhood has been already thrown away as it didn't work at all. It was quite a difficult decision to buy a new repeater after such experience, but I analyzed a lot of reviews and came to the conclusion that it would be rather sensible to try (moreover, MyAmplifiers.com offers a warranty). I have chosen this model as it meets all my requirements. As my children and I are subscribers of different mobile operators, it was crucial for me to have a repeater that will be able to amplify signals provided by different carriers. And the booster is able to do it. I placed my order on Saturday and already on Friday I installed it at my place."

Kristofer R. from Estonia also posted a review on our website: "I am impressed! I didn't think that just in a minute all my problems with mobile internet and called would be solved. But it happened! I just installed my NS-300-Smart (fully on my own) and I noticed positive changes: the signal indicator on the display of my smartphone increased. This booster really works!"

Advantages of Nikrans NS-300-Smart:
The device is able to work with 5 frequency bands.
The booster can improve a signal from zero to 5 bars.
It is 100% safe for people's health.
Disadvantages of Nikrans NS-300-Smart:
The price is rather high.
The booster is very reliable and its efficiency has been already proven by time. But frankly speaking, let's admit that a booster that is compatible with 5 frequencies is more suitable for public places and offices than for houses and flats.
Follow this link to buy Nikrans NS-300-Smart. The usual price is £1,155, while the current price with a discount is £755.
Final word
So, we've shared our opinion on these different solutions for O2 mobile signal problems. But of course, each person should make his/her own personal conclusions and choose the variant that will be a perfect one in each case.
You can create a booster on your own or order the cheapest model available.
But if we are talking about the most powerful model for home that will be able to improve all types of O2 signal, we would recommend buying Nikrans LCD250-GSM+4G, especially given its price.
We can guarantee you 100% safety of this device and will provide you with a 3-year warranty.
However, you are the only person who can decide!
We hope that you will make the right choice.
Please, do not hesitate to contact us if you have any questions.
More information on amplifiers for other UK mobile providers — Three mobile signal booster and EE mobile signal booster.
3 Band
Calls
4G/LTE
3G
5G
4.9/5 — 76 Reviews
Coverage: 3300 ft²
$545