EE is one of the most popular operators in the United Kingdom. With over 26 million subscribers, it is the second-largest mobile network in the country. The EE brand was created in 2010 by Deutsche Telekom and France Télécom and now it operates within the BT Group. The company provides a wide range of telecommunication services and is also well-known for its superfast 5G and 4G networks.

EE in the UK
If you are one of the EE subscribers, you definitely know that this operator provides the fastest 5G network in the country and one of the fastest 4G connections. The company has very wide coverage in the UK and any user will agree that it is even the widest one.

All in all, today it offers 2G, 3G, 4G and 5G networks. EE provides a wide range of subscription plans. For example, there are SIM-only options as well as plans with a handset. You can choose a shared plan for your family or a pay-as-you-go option if it is convenient for you.
To enhance the client experience, EE has different incentives and so-called "Smart Benefits" that include Apple Music Apple Arcade, Apple TV+, BT Sport Ultimate, BritBox, Amazon Prime Video, Video Data Pass, Roam Further Pass.
For some years, EE used to be a leader in the UK mobile communication market. However, today, it is clear that it has faced serious competition from the side of such players as Vodafone and Three.
Strong sides:
Fast 5G and 4G speed
Quickly growing 5G coverage
Wide 4G coverage
High customer satisfaction
Wide selection of handsets
Weak sides:
Issues with customer support services
High price
No unlimited offers
Let's admit that a perfect operator simply doesn't exist as all the companies have their pluses and minuses and thanks to these differences we can find a variant that suits us more than others. But to understand better what EE offers, it will be great to have a look at what the subscribers can say about their experience.
Linda Richardson that left her comment on one of the websites that provide reviews on different services said that she is very satisfied with the quality of the support service at EE. She wrote: "Thank you for spending so much time and patience with me, explaining my confusing multi phone account. Gareth Magee is most probably one of the best employees that EE have. He went above and beyond to help me sort it out. Thanks Gareth."
Stuart baker also believes that EE offers a "fantastic customer service". He shared his experience: "EE have always provided me with fantastic customer service and offered me great deals when I'm due an upgrade. They have been far better than previous network providers I was with."
However, we should understand that all people are different and cases can be different too. As a result, it is obvious that not everyone can get the service he or she expected to have.
"Been a EE customer for a very long time now even as far back as when they were Tmobile. I'm confused as to how EE reckon they are the UK's number 1 network after the very poor service and customer service they provide. I've been living with a very poor 4G signal for years so contacted EE. Not only did they not help they refused to reduce my monthly bill or give me any compensation for the crap signal..as was told 'Your still receiving a service, all though it be one bar signal'," wrote Rachael.
Joe is also not among those who are happy about being a customer of EE. He said: "I've had a terrible service from EE and will be cancelling all contracts with them as it was impossible just to add a new monthly subscription SIM card to my existing subscription after purchasing it online. It was cancelled as they couldn't contact me. I was contacted to be offered a better deal but had already ordered online and was busy and just wanted to stick to what I ordered. Now it is cancelled by EE. Poor service."
And this situation with such opposite opinions just means that the company still needs to pay attention to some aspects of its business in order to make it even stronger than it is now.
In this article, we are not going to convince you to change your carrier or, vice versa, stay with EE. We are just going to share our knowledge regarding the best ways to improve your EE signal in the UK if you are not satisfied with it.
We have five options for your consideration. They have different levels of efficiency, different prices and require different efforts from our side. But we believe that on our list you will find exactly what you need.
EE booster as a tool to fight with cell signal problems
Though many people believe that only a mobile operator can do something to improve the quality of the transmitted signal, this opinion is wrong. Actually, we have one more thing to tell you that can surprise you. There are cases when operators can do nothing to change the situation while users can significantly enhance their connection on their own.
Today there are special devices that can help you to achieve this goal. These devices are called mobile signal boosters and you can install one at the location where you suffer from poor EE reception. Nowadays it is possible to buy such a signal amplifier for a building of practically any size and even for a car or boat.
Despite the fact that there are different models of boosters, they all have a very similar working principle and configuration. Each booster set usually has:
1 outdoor antenna (it catches the signal even when it is too weak to be received by your smartphone
1 booster box (this element strengthens the signal that is sent to your location by your carrier)
1 indoor antenna (There can be 2 or 3 items of this kind for widening the coverage area of a device. The antenna gets the amplified signal from a booster box and sends it to mobile devices)

As a rule, such sets also include all the necessary cables and mountings to ensure quick and easy installation of a device.
You may have already guessed from the description of all the elements how a typical booster works. An outdoor antenna catches the signal transmitted by operators. Then it sends it to a booster box where the signal will be made stronger and later an indoor antenna gets the signal that should be sent within the coverage area.
The coverage area is one of the parameters that you should take into account if you are looking for a booster. Among other criteria, we should mention the frequency bands that the booster is compatible with and the type of the device.
Booster for EE mobile signal: How to install it
In spite of the fact that there are different models of boosters and their configurations may differ, the general installation rules are always very similar. When you receive your EE signal booster, the key thing that you need to do is to install it correctly to make sure that your device will work properly and show the desired level of efficiency.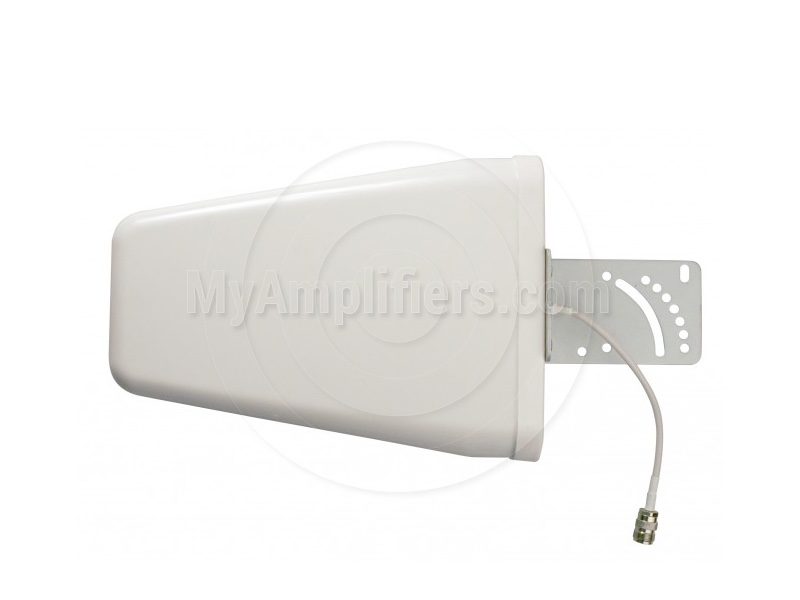 The main challenge may be related to the installation of an outdoor antenna. It should be fixed on the roof or, if it is not possible, near the window outside. With some antennas, you should be extremely careful as it is important to choose the best direction for it which will let antenna easily get the signal that is transmitted by the nearest cell tower used by your operator.
As for an indoor antenna, there are usually not so many rules that regulate its installation. The principle of its installation will depend on the type of each antenna. For example, as you can understand a ceiling antenna should be mounted on the ceiling while some others can be placed on the table.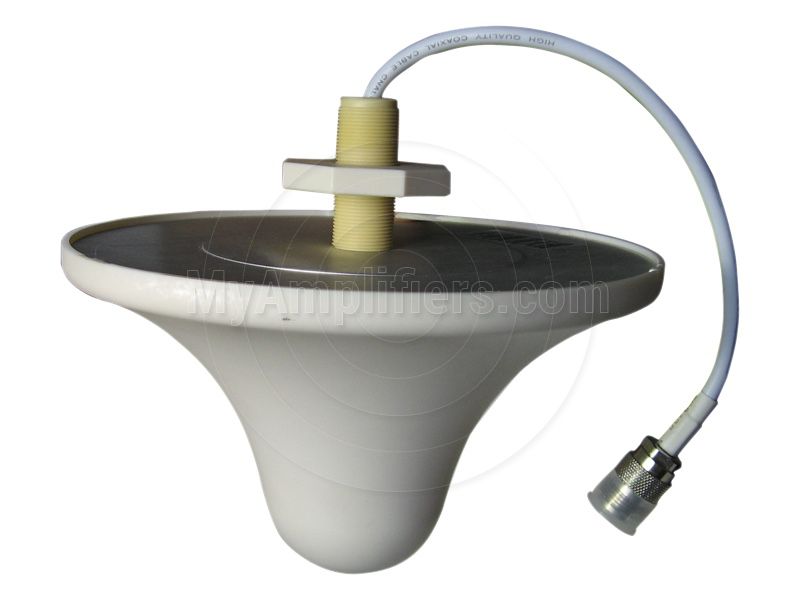 One of the rules that you should also pay your attention to is the vertical distance that should be ensured between two antennas. Usually, such things are indicated in manuals or guides prepared for users by manufacturers.
When you have a booster with an LCD screen (not all models are enriched with it), you can enjoy the tips that are shown during the process of installation.
There is one more thing that you shouldn't ignore. Please always check in advance whether the seller that you've chosen provides a full booster kit or you need to buy something additionally. If you are considering our website for placing an order you should know that at MyAmplifiers all boosters are sold in full kits and it is very convenient. For us, it is very important to guarantee you the best user experience.
If you are reading this text and realize that a signal booster for EE is exactly what will help you, it's high time to decide which of the 5 options from our list you will choose. Below you can find the best solutions to deal with your EE GSM, 3G and/or 4G issues.
Featured boosters to improve EE signal
Discount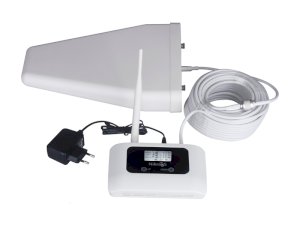 EE signal repeater
4.9/5 — 184 Reviews
Coverage:1400 ft²
Calls
Discount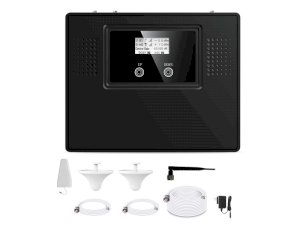 EE cell phone amplifier
4.9/5 — 112 Reviews
Coverage:3300 ft²
Calls
4G/LTE
3G
Discount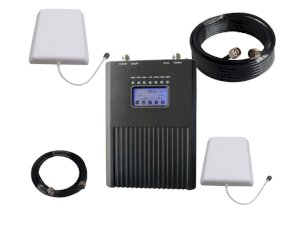 EE repeater
4.9/5 — 136 Reviews
Coverage:3300 ft²
Calls
4G/LTE
3G
DIY EE repeater
If you like creating various interesting devices on your own, this variant may seem the most appealing one for you.
However, we need to warn you that we can't guarantee that this option will ensure the desired results. But if you have some technical skills, you can try! Even if it doesn't work, you will enjoy the process (at least we hope so).
Actually, it is also the cheapest variant. Maybe you will find some elements and home and it won't be necessary to buy them. Below you can find a list of all the necessary items that you should have to make your own EE signal booster.
a coaxial cable (10 m),
a wire (0.35-0.4 m),
connector blocks (2),
a nut and a bolt,
a plastic container,
a water pipe.
In this article, we are not going to provide a full step-by-step guide on how to build such a booster but you can read instructions that we've published on our website earlier.

Still want to try? Then please read all pluses and minuses of such projects.
Advantages of building your own booster:
No serious investments are required.
The process can be real fun.
Disadvantages:
You should be ready to spend your time on this project.
Some tech skills are required.
It is not always easy to find all the necessary elements.
The efficiency of the device is not guaranteed.
On one hand, it can be a very good idea at least to try to build such a device on your own. But on the other hand, let's admit that it is not the most feasible option as there is a risk that your device won't work at all. In any case, we wish you good luck!
"No-name" EE booster
Today if you want to buy something the only thing that you need to do is to google it. Though we haven't tried but we believe that you can find even a unicorn with a head of a cat. Especially, such websites as eBay and AliExpress are rich in such things. And of course, it won't be a problem to find an EE signal booster for the UK there. Some of the offered devices are so cheap that it is difficult to resist the temptation to order it. But are you sure that these no-name devices are really reliable and, what is even more important, absolutely safe for you and your family?
You shouldn't forget that a booster is a technical device and you need to choose it with the same level of responsibility that you have when you are choosing a smartphone or a laptop. A producer of a booster should have all necessary certificates that prove that the device is safe and that its quality meets the set standards.

Pluses of a cheap device:
Its price can seem really cool.
The process of placing an order and conducting payments is usually quite straightforward in such platforms as eBay.
Minuses:
The reliability and safety of a booster can't be guaranteed.
You can wait for your order for months.
Actually, if you want to check whether you are a lucky person, you can order such a booster and you will be pleasantly surprised if it will work. Once again (for the second time in this article): good luck. But if you are not a risky person, probably, the variants that will come next will be a better choice for you.
EE booster for calls
One of the popular models of EE repeaters in the UK is a booster for calls. This option is suitable for those who have issues only with their EE GSM connection.
Nikrans LCD-130 is definitely an excellent representative of this category. It has a modern design and small dimensions. It will look good in any room and if you wish you can easily hide it somewhere so that it will stay unnoticed.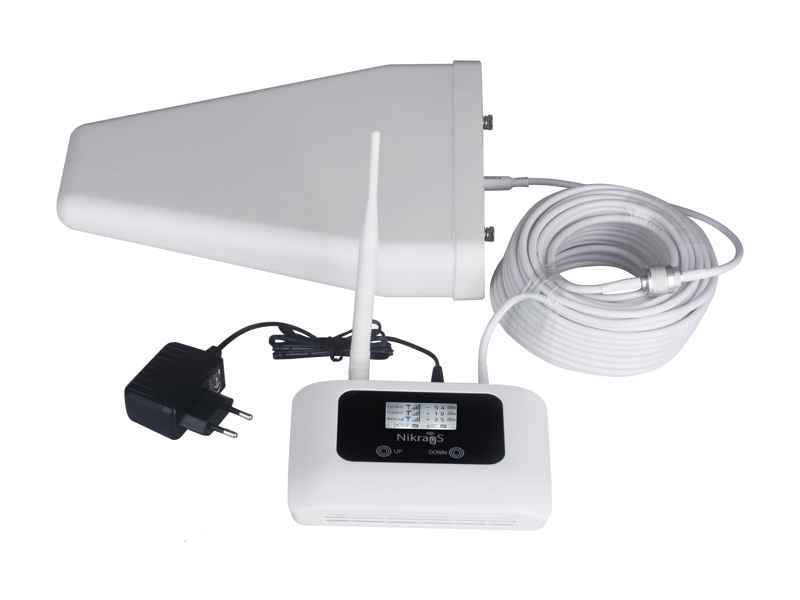 But at the same time it is rather powerful and it can cover with the improved signal an area of 130 m² (1400 ft²). However, we want to highlight that this model is intended for improving the quality of one type of signal only.
That's the only thing that makes it different from some more advanced models. It has an LCD screen that will show you useful tips for installation and will also display data on the network state.
The majority of users who shared their thoughts about this model are quite happy about their choice.
George Ralley from the UK wrote: "he short delivery time, the quality of the details – these are also the advantages. When I was putting it together, I expected to face some difficulties, but there were none and I really managed to complete it in less than half an hour. After that I just turned it on – and Lycamobile signal problems have never bothered me anymore."

Jérôme Mollat from France is also fully satisfied: "As far as the kit itself is concerned it is necessary to mention that I didn't have to buy anything additionally in order to install the repeater. They delivered the full set which included the signal booster, an inside whip antenna, an outdoor antenna with 16m cable, a power supply, all required mountings, and a detailed manual. By the way the manual was very useful when it came to the installation process. I managed to set up the amplifier on my own without any additional technical help, so I think anyone can do it easily."

Advantages of Nikrans LCD-130:
Many buyers from the UK say that this model demonstrates perfect results.
The price-quality ratio is perfect.
MyAmplifiers offers a warranty to all clients.
The design is quite modern.
Minuses of Nikrans LCD-130:
The coverage area is suitable only for rather small buildings.
The device is able to improve only your GSM signal.
The usual price of this device is €195 but right now there is a cool discount on our website and you save €60 buying it for €135. Just follow the link to place an order.
EE booster for mobile internet
Nikrans LCD250-4G-D is a repeater that is designed to work with 800 MHz and 1800 MHz frequency bands and is mainly intended for improving your LTE/4G connection.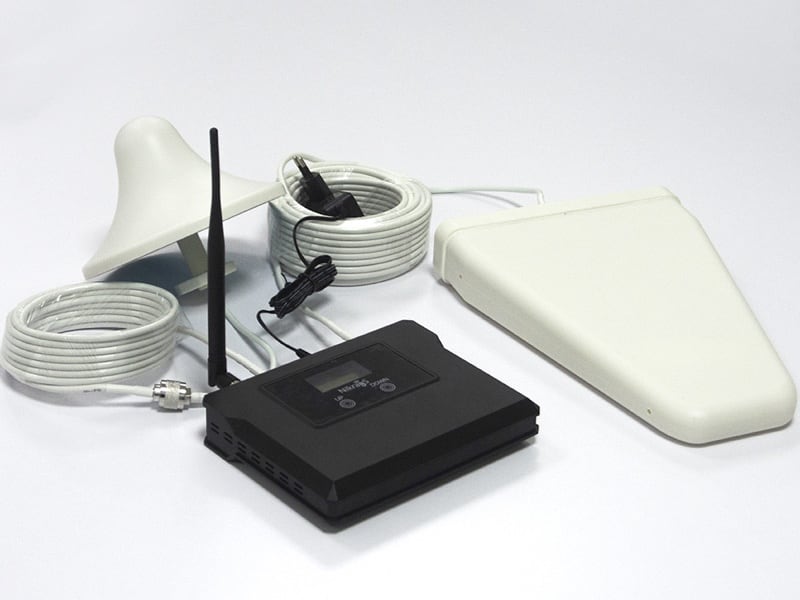 With the coverage area around 250 m2, it can be placed in summer cottages, offices, shops and other locations. Thanks to its sleep mode, the booster is very energy-efficient and its usage won't seriously change the amounts that you usually see in your bills. Moreover, it supports multiple connections which means that a lot of mobile devices can enjoy the improved signal at the same time.
Based on the experience of our clients we can say that the installation is not challenging at all. Just 15 minutes – and you will see that your LTE signal is significantly better.
But what do buyers say? "Our office is not very big, so we didn't have to buy a booster with very wide coverage. The main criterion for us was the capacity of the device to stabilize a practically zero LTE signal. After analyzing the available options, we ordered the LCD250-4G-PRO model. It arrived in less than a week and we had absolutely no problems with its installation. Now everything is perfect with our mobile internet and communication with clients!" wrote Edgar Richards from the UK.

Lindy Nastke from Austria has also shared her opinion: "I wasn't sure how that works, but the employee explained everything to me in the chat on their website, I was convinced, and then guided on what model should I choose. I don't use my phone a lot and prefer messengers, so we decided that LCD250-4G-D was the best cell phone signal booster for me, because I only need the internet. I was a little worried at first, because I installed the outside antenna on the sunny side of the building, but the temperature doesn't affect its work at all, and everything is perfect."

Advantages of Nikrans LCD250-4G-D:
The booster is very reliable and absolutely sage which is proven by the internationally recognized certificates.
At MyAmplifiers, you will get a full kit and a 3-year warranty for this model.
Numerous devices can use the improved signal at the same time.
The device works well regardless of the weather conditions outdoors.
Disadvantages of Nikrans LCD250-4G-D:
The coverage can be not enough for large buildings.
It is developed to improve only 4G network signal mainly.
More detailed information about this repeater is provided here. The price of the kit is €339.
Reliable EE booster for calls and internet
And the last but not the least model for you to consider is Nikrans LCD-300GD. This booster can work with three key types of signal, as a result, it can be efficient in improving both voice services and mobile internet.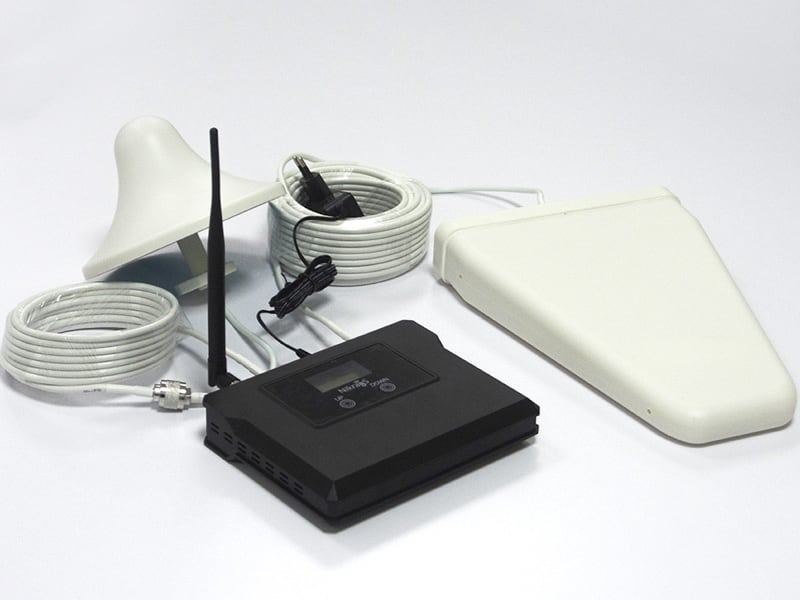 The coverage area of this EE amplifier is 300 m². So, you can install it not only at home but in the majority of offices and public places as well. The booster looks modern and it is absolutely simple to install and use it.
Even without any technical background and external help, you will manage to mount all its elements following the instructions provided in the manual.
But let's better have a look at what our clients have written about their experience.
"I had dozens of questions to ask but all of them were answered by the company's specialists. They advised us to install LCD-300GD that is designed to improve Virgin Mobile 4G and 3G signals, as well as GSM signal of all Irish providers. It is a cool device and if you have any problems with mobile connection, I recommend you to contact MyAmplifiers," said Ivars Gulbis from Ireland.

Another satisfied client is George Pfeiffer who lives in the UK. He wrote:"After considering a couple of variants, I decided to rely on MyAmplifiers. The site looked quite trustworthy, actually. I was surprised to see such a wide choice of models. However, thanks to a simple search tool and detailed descriptions, I chose my booster quite quickly. LCD-300GD fully met my expectations. I decided to buy a device that would improve not only mobile internet but voice services as well. Now it is absolutely comfortable for me to work from home.

Advantages of Nikrans LCD-300GD:
The booster is an excellent universal solution.
It is an absolutely safe booster.
The quality is proven by the internationally recognized certificates
A lightning protector is offered for free with this model.
As a rule, the delivery takes 3-7 business days.
Disadvantages of Nikrans LCD-300GD:
You should check whether the booster has a sufficient coverage area for your building.
Do not miss your opportunity to buy this booster with an amazing discount! The usual price is €678. But now you can buy it for €339. Yes! The discount is 50%. You can follow this link to buy it right now.
Conclusion
To cut a long story short, we want to say that we are not going to talk you into this or that solution. It's up to you to decide.
If variants to buy the cheapest model or to build a device on your own seem wonderful, you should try! But if you are looking for the safest variants, we recommend you to buy a device at one of the reliable shops.
Actually, Nikrans LCD-300GD seems to be a good option for those who want to get the safest device for the most attractive price.
If you have questions regarding one of the models that are available on our website, please, do not hesitate to contact us. Our specialists will be happy to help you.
More information on amplifiers for other UK mobile providers — Three mobile signal booster and О2 mobile signal booster.
3 Band
Calls
4G/LTE
3G
5G
4.9/5 — 112 Reviews
Coverage: 3300 ft²
$615 $740 You save: $125