If you are not satisfied with the quality of your mobile signal that you have at home or in the office, it's not a reason to panic but it's not a reason to put up with it. The quality of mobile connection is crucial for us these days. As Stéphane Richard, Chairman and CEO of Orange SA, put it, speaking about mobility amid the coronavirus pandemic:
"The mobile is no longer just an indispensable accessory to our lives. It has become our only means of keeping contact with our families, our friends and our colleagues."
But poor connection is not a fault of a carrier. Even if a cell tower is located not very far away from your house, you still may have issues with your connection? Why? The answer is quite simple. Just because there are dozens of various factors that may negatively influence your connection.
For example, some of the peculiarities of the landscape often building materials can be among the reasons for poor reception. It means that even if you reject your current subscription plan and choose a new operator, there still will be rather high chances that your connection will leave much to desire. That's why we recommend you not to make any serious steps and try to solve the issues on your own, especially given the fact that today it is rather simple to do it.
What variants do you gave? The best solution for your connection problems that you can find today is to install a signal booster. It is a very useful device that will amplify the signal transmitted by your operator. You can easily buy it. But if you like DIY projects, you can create it on your own. It sounds rather interesting, doesn't it?

If you are ready to start, you need to know what you will need to build your own device for increasing the quality of a mobile signal. You need to have:
a piece of iron wire (35-40 cm),
2 connector blocks,
small bolt and nut,
10 m of coaxial cable,
a piece of a water pipe,
a plastic container.

In order to make the antenna, straighten wire with pliers and bent it accurately in the center at 90 degrees. Measure 9 cm on both sides from the center and bend wire inwards at 90 degrees. The edges of the wire must also be bent inwards at 90 degrees - the distance from the last bend should be 8 cm.

Install the connector block on the ends of the wire and secure it with a screwdriver.

Saw one side of the pipe by half, and make a hole in the center on the other side. The hole should be of such size that the bolt could go though. After you insert the bolt into the hole, fix the antenna on top and secure it with a nut.

Next, you need to connect a coaxial cable. To do this, strip the end of the cable and separate the inner and outer wires. Connect the inner wire to one side of the small block, and outer wire - to another.

Place the self-made ​​GSM antenna on your TV antenna in the same direction, and pull the cable into the house.

Strip the other end of the coaxial cable, and again divide the wires inside it. At this time, you need to trim the external wires as they you won't need them. Take a piece of plastic and cut it out of any desired shape. Make a small hole on one side, and pull the inner wire of coaxial cable through it. You can strengthen this construction with tape. Well now you can put the modem on this piece of plastic, or attached plastic to the back of the phone - and your signal is increased!

Adapted from http://my-homemade-diy.blogspot.com/2012/07/diy-cell-phone-gsm-3g-signal-booster.html
| | | |
| --- | --- | --- |
| | DIY booster | Professional device |
| Advantages | It can be rather interesting to build a booster on your own.It doesn't require serious investments. | You will get a warranty.You do not need to spend a lot of time on building a device, you just need to buy it.You will have a professional tech support. |
| Disadvantages | It can be a time-consuming process.You need to have some certain skills and knowledge.The efficiency of the device is not guaranteed. | These devices are usually more expensive than those that you can build on your own. |
You may notice that it's feasible to build such GSM/ 3G/ 4g signal booster DIY at home. However, it requires certain materials, the minimum skills and, importantly, a sufficient amount of free time. You should also remember that working with bare wires is always dangerous, whether that risk is justified? If you want to get a better effect of amplifying a cellular signal and you cherish your time, you'd be wise to turn to the professionals and buy a quality GSM booster of factory production. Our boosters have been thoroughly tested and received CE and RoHS certificates.
But if you are not ready to spend your personal time on DIY projects you can buy a reliable device just in a few clicks. For example, we recommend you to pay your attention to Nikrans LCD-300GD. It is a universal solution for boosting not only your GSM, but also 3G and 4G signals simultaneously.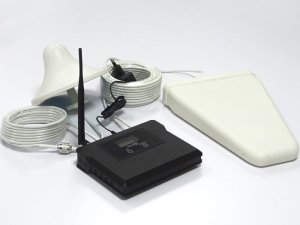 4.9/5 —

278 Reviews


Product Description »
Specification »
Reviews »
300m²
In order to choose the right GSM repeater, please use our Helper. Perhaps our customer testimonials will also help you to make the right choice.
The described way of making a mobile signal booster is not the only existing. If you didn't manage to cope with signal problems after installing this handmade device, please read more on how you may do a signal booster with your own means.
4.9/5 — 278 Reviews
Coverage: 3300 ft²
$410 $750 You save: $340