Solve your GSM, 3G and 4G signal issues once and forever!
Tired of poor connection? We can understand you. A weak and unstable signal can be very irritating. But the most irritating thing here is the fact that quite often signal issues are not the fault of your operator and your services provider can't help you even by building a new cell tower in your neighborhood. However, there is another solution! Just buy a mobile phone signal booster.

Today it's not a challenging task to find a booster that will be intended for strengthening the signal that you want to stabilize. Nevertheless, you should be very attentive and careful as some of the models offered by sellers are not certified and their usage can be simply unsafe (we even are not talking about their efficiency now).
That's why we've prepared this guide to help you to make the right decision.
Contents:

How does a booster work?
A mobile signal booster is designed to stabilize coverage in those areas where the signal is too weak due to external factors (like landscape and infrastructural peculiarities, etc.). Such a device catches the signal transmitted by your operator and improves it so that your smartphone can get it. And as a result, you do not need to suffer from too slow mobile internet or dropped calls.
There are different types of repeaters but let's have a look at least at the most popular options.
A static indoor booster.
These repeaters are the most highly-demanded options. They are designed to enhance your connection inside a building. They usually have three main elements: an outdoor antenna, an indoor antenna and a booster box that amplifies your signal. Mobile devices can get the improved signal thanks to their connection to the indoor antenna.
A booster for vehicles.
This device is really efficient and useful for those who travel a lot by car. You need to place an antenna of the device outdoors (usually on the roof of a car) and all other elements will be placed inside. But please, do not forget! To have a good stable inside a car you need to have at least any signal outdoors.
A booster for boats.
Such boosters are very similar to a previous model but they are intended for being installed on vessels of different kinds. They are usually fully water-proof and you do not need to be afraid that your booster will be spoilt during your boat trips.
There are some other kinds of these devices that are usually not so popular. Among them we can name a femtocell. It can be described as a small mobile base station that is able to get connected to a broadband network. If you have poor GSM connection, this device will send the signal via the wired internet line and not via the air as it is typically sent.
Where can you buy a mobile signal booster?
Actually, that's not a secret that on the internet, you can buy practically anything. That's why if you do not know a traditional store nearby where you can go and have a look at a booster before ordering it, we advise you to google for a reliable online shop.
Of course, there is also an option to buy a device on eBay or AliExpress but if you are not a risky person, this variant may be not the best one for you. Very often, on such platforms there are a lot of cheap offers but the questions about certification still remain to be questions without answers.
That's why, it will be much more sensible to find a reliable online store that has certificates for its devices, that has a clear return policy and a lot of positive reviews written by satisfied clients.
Before placing an order, it will be always a good idea to communicate with a support manager and ask all the questions related to the process of buying, paying, shipping, etc.
Is the use of mobile signal boosters legal?

The issues related to legislation can differ. For example, in the UK it is fully legal to sell and buy any kinds of signal boosters. Please bear in mind that those devices that are able to interfere with the public signal should get licensed. If you use a device that is not license-exempt and authorities find it out, some strict measures (with serious fines and equipment confiscation) can follow.
According to the laws of the UK, if a booster works with one network at a time, it can be used without a license. If you buy a repeater that covers more than one network, it can be required to get a license. It means that if you have any doubts, it's better to have a consultation with local authorities before placing an order for a device that can cause trouble.
Nevertheless, in any case, if you have a static booster, you should place it only inside the building. First of all, such boosters are intended for being placed indoors. And secondly, in such a way you will minimize the interference of the device with public networks.
What are the most promising boosters to buy in 2022? Our top 3
We have a couple of options to offer you. They all are equally reliable and efficient. So, please, read attentively their descriptions and we are sure that you will find a good variant for you.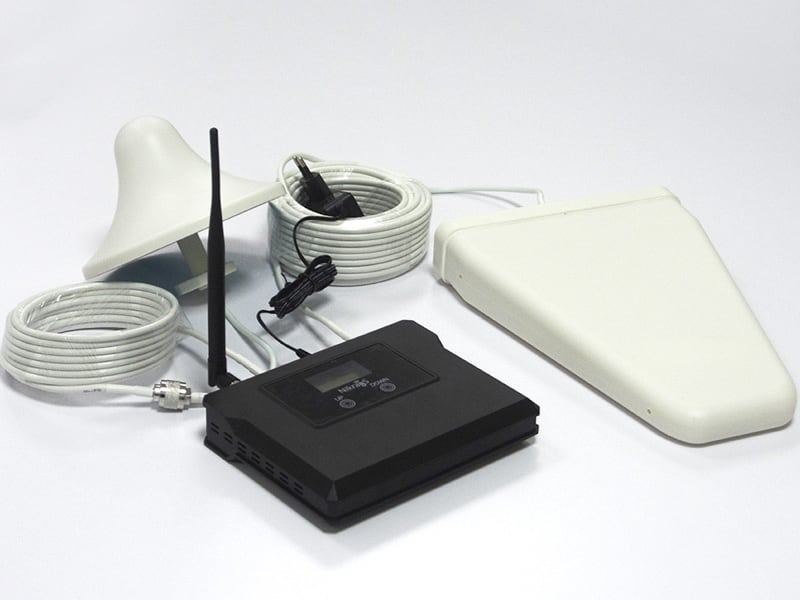 It is one of the most popular boosters these days. It is rather compact but it is amazingly powerful. It is able to solve GSM, 3G and 4G issues at the same time and to send the improved signal within an area of up to 300 m² (3200 ft²). Thanks to this coverage, the model can be installed in many kinds of private houses, shops and offices. It works with 900 and 1800 MHz frequency bands.
The booster can support multiple connections. It means that not only one smartphone can use the amplified network at a time but all the mobile devices located within the coverage area.
The booster is very simple to install. Together with your order, you will get a guide. And following the instructions provided there, even without any external help, you will be able to install it within 15 or 20 minutes.
The booster is absolutely safe got your health. While some people think that boosters emit radiation, that's completely wrong as boosters can even reduce the level of radiation emitted by mobile devices.
At MyAmplifiers, you can place an order in a couple of clicks.

This is a booster that is efficient in increasing the quality of a signal sent at different frequency bands: 900, 1800 and 2100 MHz. It means that is also able to help you to overcome problems related to voice calls and mobile internet.
With the coverage of up to 300 m² (3200 ft²), the booster can become a universal solution for many buildings. If you think that this model can offer a challenging installation process, no, it is not so. Even a person without any technical background will manage to install it. It means that you should not be afraid to buy it.
At MyAmplifiers, there is a very transparent return policy and if something is wrong with a device, support managers will help you to solve the problem as soon as possible.
The model itself is already time-proven and is certified as a fully safe device. You can read more about it here.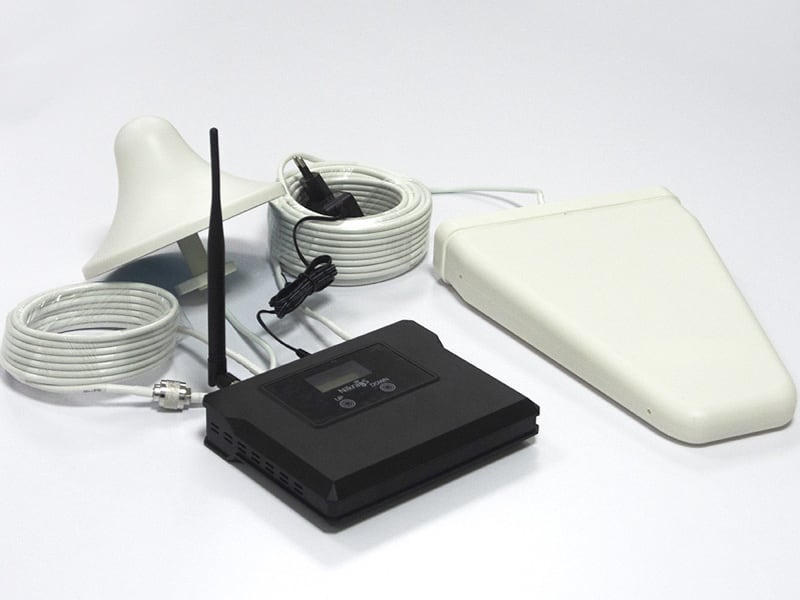 This device is also a complex solution for your signal issues with poor internet connection and unstable voice services. But this model works with such frequency bands as 900MHz, 2600MHz and 800MHz and the coverage area this time is a little bit narrower - 250m² (2700ft²). However, it can still be a very cool option for private houses and offices.
The booster is energy-efficient and it automatically switches to a sleep mode when there are no devices that are using the improved signal at the moment. The booster is easy to be used and installed. And the support team at MyAmplifiers, can always answer all your questions if you have any regarding this booster.
The delivery usually takes just a couple of business days. It means that in less than a week you can enjoy the improved connection if you place an order now.
Of course, it is far not a full list of offers that you can find in the catalogue. However, these models definitely should be considered among the best boosters in 2022.
Do not hesitate to contact our specialists. They will provide you with all the necessary information.
4.9/5 — 243 Reviews
Coverage: 2700 ft²
$415 $695 You save: $280