Today, Three is one of the most popular mobile operators in the United Kingdom. However, its history began not so long ago. In 2003, it was founded as a company that provided only 3G network services (now the roots of its name have become clear right?). Nevertheless, by now, the company has greatly expanded its offers. In 2019, Three launched its 5G network and in 2020 managed to meet the standards of the International Telecoms Union for its full 5G services.

At the moment, the company has over 9.5 million customers and its signal reached 99% of the population of the UK. However, some users of its services feel the need to look for the available solutions that will help them to boost their Three mobile signal in the UK. And that's exactly what we are going to talk about in this article. But let's start with more details about Three itself.

Three services in the UK: Strong and weak sides
At the current moment, Three provides a full range of mobile services that modern users expect to get from their operator. Apart from excellent coverage, this operator offers the fastest 5G, according to Ookla.
The company sets no speed limits in the UK as a result users can enjoy browsing, streaming and data sharing without any restrictions. And as for business customers, they can have fully unlimited plans, including unlimited calls and text messages.
There is also a possibility to use Pay-as-You-Go plans which can be also quite comfortable in many cases.
Let's have a look at the benefits and disadvantages of using Three mobile services.
Benefits:

No limits for data exchange speed
Unlimited plans
Good coverage

Disadvantages:

Issues with customer service
Prices on some services are higher than expected
Let's turn to the customers' reviews and try to understand what real users think about the services that they get.
For example, Shae Hepburn said that Three offers a top-notch service and added:
I am truly happy I moved to Three! I have unlimited calls, data, texts for an amazing price. The service is quite reliable and customer service is one of the better ones I have experienced on a consistent basis. Their roaming service does need improving but when I raised the issues with them they were very open to the feedback. So happy there is one company that actually delivers on providing a great service on a consistent basis.
"I have tried to get broadband cheap enough for me to afford and good connection. Luckily three is very good in my area so I had ordered my hub and came the very next day early morning! I was very impressed and I connected it up without any hassle, I was watching something on Netflix 5 minutes after it came through the door. I cannot wish for a better service!"- that's what Chloe Ingram from the UK thinks.
However, Jo who has left his comment on one of the platforms is no very excited about his experience:
I wish I could give a 0…worst ever customer experience I've ever had in my life. Ordered a 5G hub 2wks ago, called Customer service 3 times (of which waited 20mins at least to get through) & still haven't got an explanation as to where my hub is. Disgusted with the company so far & about to cancel the whole thing & go somewhere else. Rubbish
Actually, that's obvious that different people always have different opinions. However, the general picture is quite clear. Though the company provides services of high quality, there is always some space for improvement that shouldn't be ignored.
Nevertheless, that's clear that quite often we shouldn't blame only our operators for the deterioration of our signal as there are a lot of external factors that may have a negative impact on the connection. That's why if you have Three cell signal issues, it's worth reading our text further in order to find out what solutions you can choose today to address these problems.
Three signal booster: How it solves connection issues


As the nature of mobile signal problems can differ in various situations (and sometimes you even do not the exact reasons for your signal deterioration), you need to look for a universal solution. And we know what it can be. That's a Three mobile phone signal booster.
To begin with, it is crucial to make sure that you clearly understand what it is. Boosters are special devices intended for amplifying the power of the signal that is being transmitted by your operator. It means that boosters do not create any additional networks. They strengthen the already existing signal so that your mobile phone is able to get connected to the stabilized network.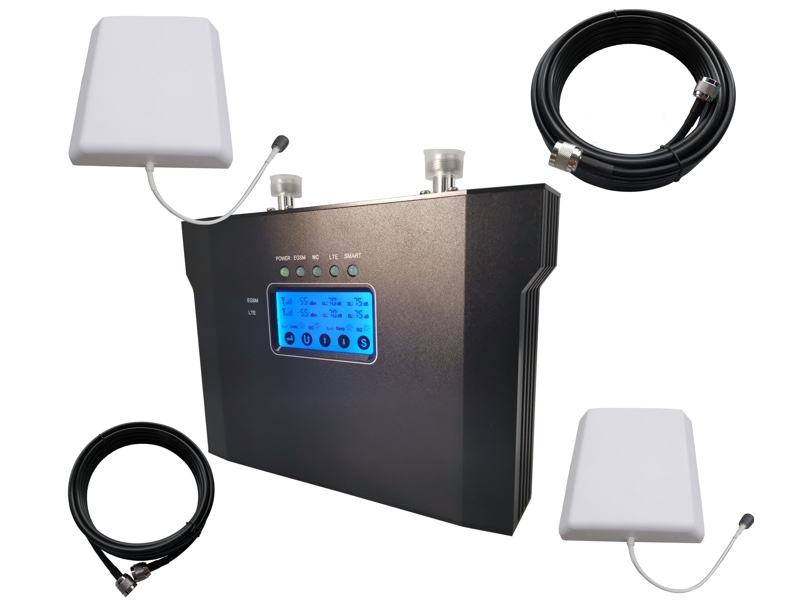 Modern booster sets traditionally include three key elements. They are:
One booster box (for making the signal stronger);
One outdoor antenna (for catching the signal sent by your operator);
One indoor antenna (for sending the signal to your mobile devices).
When you are looking for a Three signal booster, it is vital to bear in mind that boosters are designed to be compatible with particular frequency bands (not operators). And as the majority of operators in a region share the same bands, one booster will be suitable for customers of different mobile carriers.
Installation tips for Three signal booster
Modern boosters are very simple to use and to install. Even people without any special background can cope with this task following the instructions provided by a manufacturer.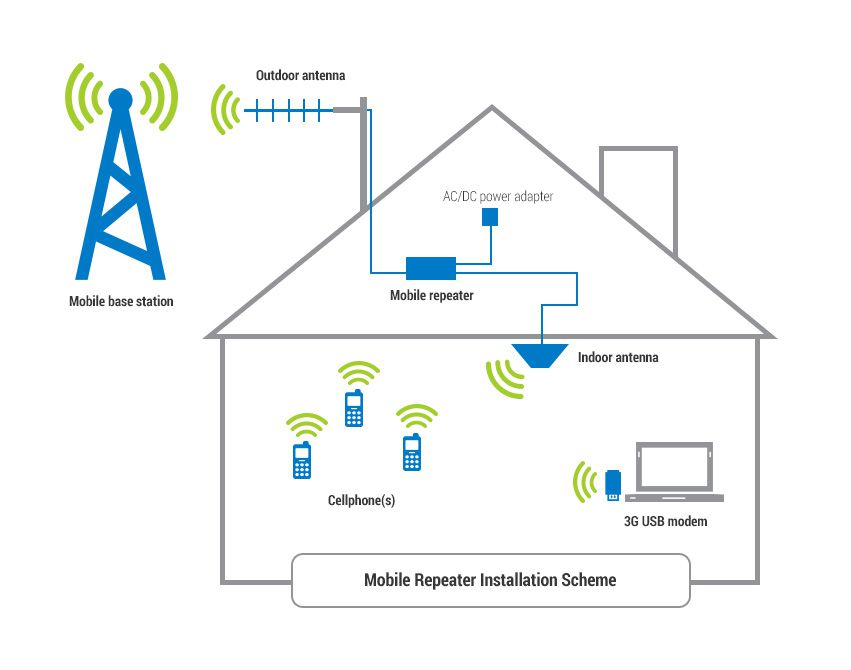 But as a rule, it is recommended to install an outdoor antenna on the roof of the building where the signal is the strongest and to find a good place for an indoor antenna somewhere in the rooms. However, very often manufacturers indicate the vertical distance that should be ensured between these two antennas.
Featured boosters to improve Three signal
Discount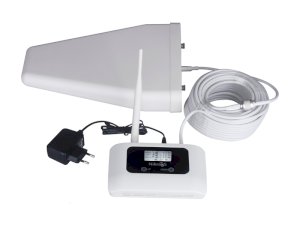 Three signal repeater
4.9/5 — 184 Reviews
Coverage:1400 ft²
Calls
Discount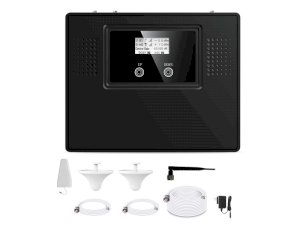 Three cell phone amplifier
4.9/5 — 112 Reviews
Coverage:3300 ft²
Calls
4G/LTE
3G
Discount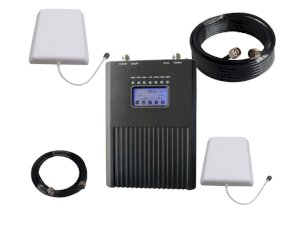 Three repeater
4.9/5 — 136 Reviews
Coverage:3300 ft²
Calls
4G/LTE
3G
How to choose the best Three mobile signal booster?
Now, it's high time to have a look at the options that are available today. The variants under consideration will differ based on their price, efficiency, and reliability. However, we will analyze all pluses and minuses of each of them. That's why you will have a great possibility to choose the one that will suit you more than others.
DIY Three mobile signal booster

For those who are fond of DIY projects, you may like this idea as well. This project doesn't require huge investments. However, you need to have some technical skills if you want to build a device that will work. Moreover, the efficiency and security of your amplifier will be only your responsibility.
So, what do you need to build a solution for stabilizing your Three network connection?
iron wire (35-50 cm),
One nut,
one bolt
Two connector blocks,
coaxial cable,
One pipe (can be the cheapest water pipe),
One plastic container.
Earlier we published step-by-step instructions that you can use as your guidelines. Nevertheless, we strongly recommend you think twice whether you are ready to spend your time building a device that may turn out to be a disaster. But we'd like to be objective that's why we've detected both pluses and minuses of this project
Pros of a DIY booster:

Low investments
Interesting process

Cons of a DIY booster:

Necessity to have tech skills
Time-consuming project
Safety and efficiency are not guaranteed
If you want to try to create a repeater on your own, we sincerely wish you luck. But if you are not ready to accept this challenge, we have some other options for you.
Cheap "No-name" Three mobile signal booster

If you have ever visited such websites as AliExpress or eBay, you know that you can find there everything you want. Even the craziest things can be available there at the most appealing prices. It means that you definitely will find there a Three mobile signal booster. But will it work? That's a very interesting question.
Very often you can buy their simple fakes that only look like high-quality devices. Of course, the price may look very attractive. But are you really a risky person?
Pros of a no-name booster

Price
Clear and simple buying process

Cons of a no-name booster:

Quality
Safety
Long delivery time
Without any doubt, you can order such a booster, especially, if a seller offers a flexible return policy. But with all these processes, you can lose a lot of time while suffering from unstable Three connection.
Booster for calls: Pros and Cons
If you want to buy a reliable booster that will improve the quality of your calls, you can consider Nikrans LCD-130. Its price will be a pleasant surprise for you as it is the lowest one that you can find for a device of such quality. It is a modern and compact device that has enormous power. Its coverage area 1400 sq.ft which makes it a good choice for apartments and offices.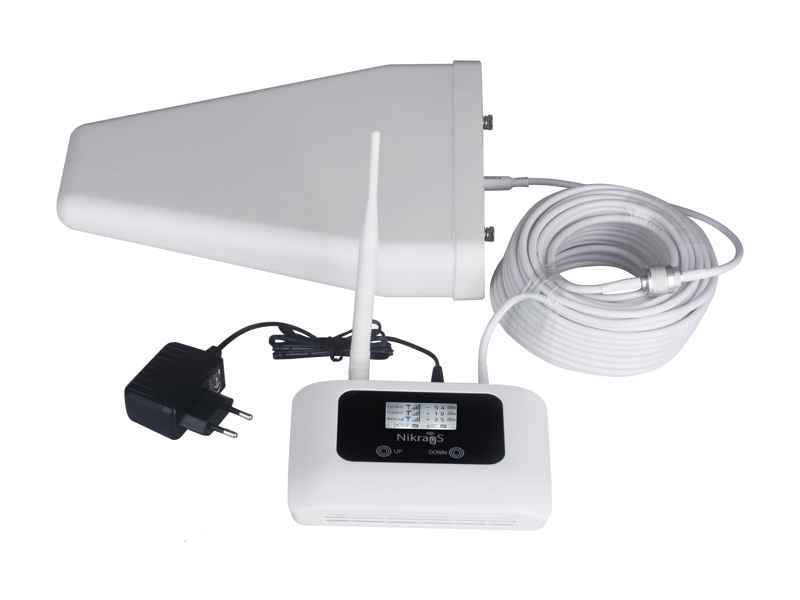 However, let us highlight that this model is compatible only with one frequency band and will be able to increase the strength of only your GSM connection. That's why if you also have issues with your 3G or 4G signals, it's better to choose another Three repeater.
"I like this repeater, its design and its capacities. We installed it in our office and our connection has improved significantly," wrote Maria Anna from Spain and mentioned "stylish design, excellent functioning, no difficulties with its installation" among the benefits of this model.

Timo from Austria also has a very positive opinion about this booster: "The design of the repeater is very nice. The booster box is quite compact and I think that it can be placed absolutely in any living room or office".
Benefits of Nikrans LCD-130:

Excellent efficiency in improving Three GSM signal in the UK
Pleasant price
Warranty from MyAmplifiers
Stylish design

Disadvantages of Nikrans LCD-130:

No possibility to install this booster in big houses
Compatibility with one frequency band only.
To order this Three mobile signal booster just follow the link. To get this powerful device you will need to pay only £150.
Reasonably-priced GSM, 3G and 4G booster
Nikrans LCD250-GSM+4G is the best solution you can only wish for in the majority of cases. It works with two frequency bands and it can improve the quality of GSM, 3G, and 4G signals at the same time which makes it one of the most popular choices for solving Three mobile signal problems.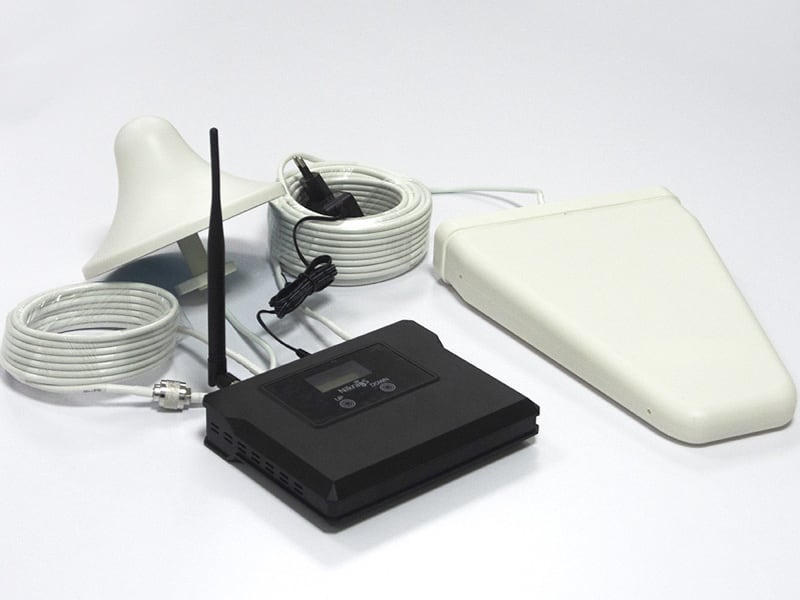 With a coverage area of 2700 sq. ft, it can be installed in private houses and big offices. The device is simple to install and it has an LCD screen that demonstrates a lot of valuable information related to its functioning.
Duarte from Portugal was pleasantly surprised that the installation process was so quick: "I am really impressed! Thank you for this booster. It was so easy to install it that after I finished I even didn't realize that everything was ready. Many-many thanks!"

"This booster is a universal solution. It is able to improve all types of signal simultaneously which means that it can replace three separate devices", wrote Magnus from Denmark and added that the price was very pleasant as well.
Benefits of Nikrans LCD250-GSM+4G:

Compatibility with two frequency bands
Amazing price-quality ratio
Simple installation
Safety
Flexible return policy
Low energy consumption

Disadvantages of Nikrans LCD250-GSM+4G:

Some people want this booster to have wider coverage area
Click here if you want to place an order and to get this booster just for £355.
Innovative 3-band booster for calls and internet
The next model that we want to offer you is Nikrans BD-300GDW which is a triband repeater that can improve GSM, 4G, and 3G network signals. This is a booster with the widest coverage on our list (3300 sq.ft).

But what makes it really special is an application for tracking booster status. To monitor the ongoing working status of this Three signal repeater, it will be enough to open a mobile app.
Rasmus from Denmark shared his thoughts: "Good booster. Actually, I do not have any experience that allows me to compare this repeater with anything else. But I am satisfied. It works exactly as I expected".

"For me, the key benefit of this device is the fact that it is an all-in-one solution. It's very convenient that one booster can improve the quality of calls as well as the speed of mobile internet," wrote Alexander from Belgium.


Benefits of Nikrans BD-300GDW:

Possibility to improve three types of signals at the same time
Mobile app for tracking its working status
Reliability
Wide coverage

Disadvantages of Nikrans BD-300GDW:
If you want to learn more about this model, follow this link.
Booster for vehicles
But what can you do if you are not satisfied with the quality of your Three signal in the UK when you are traveling? A Three mobile signal booster for cars will be a good solution for you! Nikrans LCD-GL-Drive is an excellent booster for amplifying your GSM and 4G connection. Many people buy this device for private cars but it can be also installed on trucks and buses.

The booster has an LCD screen (though there are not so many repeaters for vehicles that have this element) and is very compact. It means that even if you have a very small car, you will easily place the device there.
"That's the best booster for cars that I've seen (and believe me, I've seen a lot). It represents a perfect price and quality ratio. I like that it has an LCD screen and I can track the network data," wrote Christopher from Germany.

Hunter from Australia also seemed to be quite satisfied with his choice. "I highly recommend buying this device for those who travel by car a lot. The device improves GSM and 4G connections; it is very compact and won't occupy a lot of free space in your vehicle," said he.
Benefits of Nikrans LCD-GL-Drive:

Stable functioning
Modern design
Excellent price

Disadvantages of Nikrans LCD-GL-Drive:

If there is zero signal in the area, the booster won't help.
Buy this booster just for £295.
Conclusion
So, which variant should you choose? Well, that's up to you to decide.
We recommend you set your priorities, detect the exact type of signal issues that should be solved, and define your budget.
If you want to order a booster on MyAmplifiers, you can be sure that you will get a high-quality, safe and reliable device that will help you to solve your Three mobile signal problems in the UK.
In case of any questions, you can contact our team. Our managers will be happy to help you and explain all the peculiarities of the boosters offered on our website.
More information on amplifiers for other UK mobile providers — EE mobile signal booster and О2 mobile signal booster.
3 Band
Calls
4G/LTE
3G
5G
4.9/5 — 76 Reviews
Coverage: 3300 ft²
$545