Forget about annoying frequent cellular signal disconnections, weak 3G signal, missed calls and constant seeking for an additional bar in your cell phone, iphone! Those who work at home and use 3G connection and gsm mobile reception do know well what it is all about. There is a device, which make you free of all these troubles of a modern person who works at home!
Meet a mobile signal booster by AnyTone and Nikrans! There is nothing better to have a stable and effective cellular network around the house you work in than to use mobile signal booster! For more than five years our company has developed a great variety of mobile signal boosters according to several conditions, user's demands, usage destinations and capacity.
So let's start with the most popular 900 MHz mobile signal boosters. This type of boosters is manufactured for amplifying gsm mobile signal at the frequency of 900 MHz and supported by most mobile operators of the European Union. These boosters are widely spread around the world and are very popular among the cell phones users due to their high quality and no-failure work. Among the 900 MHz mobile signal boosters the most popular are the following models: MA130, NS-GSM-A for car, AT600 for middle-sized areas, and AT700 for large houses. Beautiful design, compact size and practical usage are remarkable features of this type of our boosters. You need to check the square of area you work or live in and choose a booster, which is suitable for you. Besides, don't forget to check the working frequency of your mobile operator with it either using Search form on our website.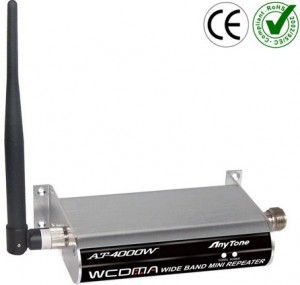 For maximum convenience of work at home there has been created a special line of 3g boosters by AnyTone. Thanks to 3g boosters you will have a stable 3g connection and forget about low or weak 3g signals. Everything you need for work at home: mobile tv, social media resources, online calls and chats will be available for you twenty four hours a day and seven days a week. Among 3g boosters there are AT4000 for small places, AT6100 for average locations and 6200 3g for large houses. All of them are manufactured in various modifications according to working frequency (2100 MHz) and coverage range, user's demands and usage destinations. More detailed characteristics of 900 MHz and 3g boosters you can read on our official website in corresponding sections.
Anytone's also glad to draw the attention of all home workers so-called dual band cell phone signal. With dual band boosters you have an opportunity to stabilize gsm and 3g signal in one device. And by the way you do not need any special skills or instruments for the installing of amplifier – all the necessary constituents are inside the AnyTone kit. These are two antennas, a cable, a power supply, a user's manual and a booster per se.
Don't wait and contact AnyTone customer service to order the profitable amplifier. Read user's manual before installation of the booster. Good luck and enjoy using AnyTone boosters!