Today it is impossible to imagine our life without mobile devices, we use smartphones for communication with friends, families and business partners, we have a lot of apps for solving our everyday tasks (like ordering food or calling a taxi), we watch movies and listen to the music with the help of tablets and phones regardless of our location. And all this is possible thanks to the fact that our operators ensure practically 100% signal coverage. But why do many of us still suffer from signal issues? There can be different reasons: from landscape peculiarities to thick walls. 
However, it doesn't mean that we need to suffer from poor connection forever. Today, there is an amazing solution for all mobile signal issues. And this solution is a mobile signal booster. The market offers a wide range of devices intended for improving different types of signals in buildings of various types. But the working principle of all of them is practically the same. That's why before considering some particular models, we offer you to have a look at some general information.

Thanks to its simple configuration, a signal booster has a rather clear way of working.
An outdoor antenna that should be installed somewhere on the roof (or at least on the outside wall) catches the signal transmitted by your operator.
The antennas send the signal to a booster box via a coaxial cable.
The booster box increases the power of the signal.
The signal is sent to an indoor antenna.
The antenna transmits the signal within a coverage area.
All mobile devices within the coverage area get the stabilized signal.

It sounds rather simple, don't you think so? And thanks to the efforts of engineers, it is really so.
Boosters are designed to be compatible with different frequency bands and that's the factor that explains why some boosters are able to improve only, for example, your voice calls, while others can deal with mobile internet issues as well.
Today there are boosters for enhancing the quality of:
GSM
3G
4G/LTE
5G network signals.
And what is extremely important to say is that many modern models are intended for improving several types of signals simultaneously.
We offer you to have a look at the list of the following models with their descriptions. We are sure that this information will help you to make the right choice.
We will compare 5 models. So let's see our top 5.
| Model | Types of signals that it improves | Coverage area |
| --- | --- | --- |
| Nikrans LCD-300GD  | GSM, 3G, 4G | 300 m² |
| Nikrans LCD-300 | GSM | 300 m² |
| Nikrans LCD250-GSM+4G | GSM, 3G, 4G | 250 m² |
| Nikrans BD-300GDW  | GSM, 3G, 4G | 300 m² |
| Nikrans NS-300-Multi | GSM, 3G, 4G | 300 m² |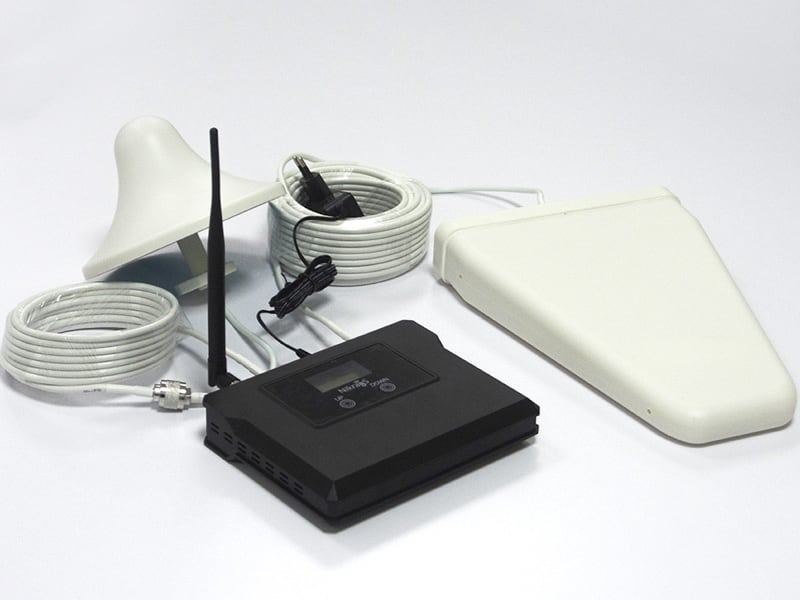 We won't exaggerate if we say that this model is one of the most popular ones on our website ever. We know this demand and regularly offer pleasant discounts (up to 50%) as we know how many people would like to order it.
A device is a universal solution as it is able to improve GSM, 3G, 4G signals at once. But please note that it works with the signals transmitted at 900 and 1800 MHz frequency bands which means that if your operator uses other frequencies, you need to look for another model.
The booster has an LCD screen that shows useful data regarding the network state, a special sleep mode that helps to reduce expenses on energy and a capacity to transmit the improved signal to numerous mobile devices simultaneously.
What users like:
Easy installation
Excellent price
Compact size
What users do not like:
A booster box and an indoor antenna have different colors
The booster is compatible with 2 frequency bands only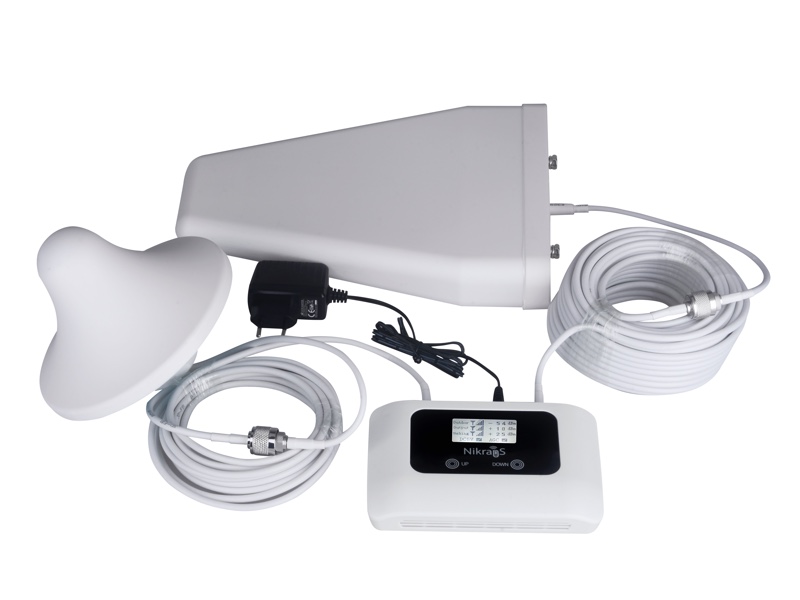 If you are looking for a reliable repeater to improve the quality of your voice calls, this solution is exactly what you need. This booster works with the 900 MHz frequency band and is suitable for subscribers of the majority of European operators.
Thanks to a rather wide coverage area, this device can be a good choice for flats and private houses, cottages and some public places.
The booster is rather small but it is very powerful: you will get 4-5 signal bars in a couple of seconds after the device is installed and switched on.
What users like:
Stylish design
Clear interaction with the device
Quality-price ratio
What users do not like:
A booster is intended only for GSM network (and in some cases can improve 3G signal) as it works with one frequency band only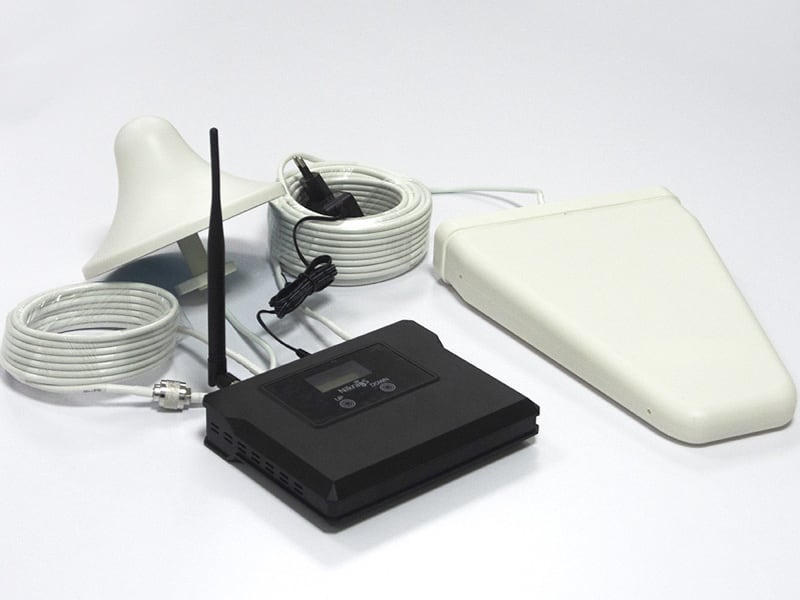 This booster has a little bit smaller coverage area than other devices under consideration. But it still can be installed in buildings of many types, even in some public locations as this model (as well as other models on our list) supports multiple connections.
The device looks modern and stylish and you can easily install it in any room without any fear that it will spoil the general design.
It can improve your calls as well as the quality of your mobile internet but you also need to pay attention to the frequency bands that this booster works (900MHz, 2600MHz or 800MHz).
What users like:
LCD screen
Clear installation
Lowest price guaranteed 
What users do not like:
It can be a little bit challenging to fix an outdoor antenna.

This booster differs from the three above-mentioned models as it has two indoor antennas instead of one. And this configuration ensures even better coverage. It is compatible with three frequency bands: 900, 1800 and 2100 MHz which are widely used by carriers in Europe, Asia and Africa.
As the repeater has an additional antenna, its installation can take a little bit more time but all the steps are very simple and are described in the manual that is included in a standard set.
The booster has a very good price and many mobile users from different countries of the world have already successfully checked the efficiency of this solution in their battle with a poor connection.
What users like:
Possibility to improve three types of signals at the same time
Stability of signal
Support of multiple mobile connections
What users do not like:
There can be some difficulties related to the installation of the second indoor antenna.

What makes this booster special and what we should mention first of all is its compatibility with 5 frequency bands: 900MHz, 1800MHz, 2100MHz, 800MHz. As a result, this repeater can work with the networks of all operators in Europe and many other regions of the world.
This solution is a perfect one for office buildings, hotels, gyms, restaurants, etc. But please mind its coverage area! It can reach up to 300 sq.m which is more than enough for living properties but for some public locations, it can be not sufficient. 
Nevertheless, it's very convenient that clients of different mobile operators can enjoy the improved GSM, 3G and 4G signals at the same time.
What users like:
Smart display and LED indicators
Support of 5 frequency bans
Smart and manual gain control
What users do not like:
The price is higher than for many other models.
Instead of a closing word
As you see, all these models have their pluses and minuses but all of them are powerful and reliable solutions that can help to deal with mobile signal problems of different kinds. The main thing here is to find a model that will correspond to the peculiarities of your building and will work with the frequencies that are used by your operator.
If you haven't found an appropriate model on our list or you want to know more about these boosters, do not hesitate to contact us! We will be happy to share all the required information.
4.9/5 — 243 Reviews
Coverage: 2700 ft²
$420 $555 You save: $135