Vodafone is one of the leading telecommunication companies in the world. The company started its journey in 1984 and by now it has managed to gain a reputation of a reliable services provider. Having its global headquarters in UK, Vodafone has operated networks in more than 20 countries while its partner networks are located in other almost 50 countries.

Vodafone services
The company offers its voice, messaging, mobile data, and roaming services to individual and business clients in Europe, Africa, Asia, and Oceania and nearly 80% of the company's business is concentrated in the European region.
Vodafone provides GSM, 3G and 4G networks signals to millions of users all over the world and currently it is actively developing 5G services in particular countries. The frequency bands that the operator uses may differ depending on the location. If we are talking about UK, as rule, the standard bands are utilized for disseminating the signal: 900 Mhz, 1800 Mhz.
Vodafone signal coverage is known to be nation-wide practically in UK where the company operates. However, some issues with the signal are still possible but we will take a closer look at them a little bit later in this article.
Advantages of Vodafone UK:
Wide geography and strong presence in many countries, including emerging markets
Global roaming
Good choice of SIM-only offerings as well as mobile plans
Comparatively good coverage (but it doesn't mean that Vodafone signal issues do not exist)
Disadvantages of Vodafone:
Not very competitive pricing
Poor customer services
However, we can speak a lot about Vodafone and its offerings but let's better pay attention to what its subscriber say about it. We should admit that the reviews are quite controversial.
For example, Emran_Mangat wrote: "I am perfectly fine with it and I have been using this company for many years. So I think that it can be recommended, especially since there are favorable tariffs, including in business format."
At the same time, rajeshcareercraft noted: "My plan is postpaid and number is 9925030584. I am associated with Vodafone through this number by more than 25 years. They don't treat me as a senior customer. Once the bill is generated they keep reminding you twice every day until it is paid. If they use same time and efficiency to improve network it will be worthwhile."
But there are also reviews that indicate that the company has some obvious problems with it signal in some areas of the UK.
"Their coverage is average in cities but in rural areas they are terrible. They have one of the worst 5G coverage and one of the worst 4G speeds in my own experience. It's too expensive for what it is. Customer service is ok but you can't enjoy a decent mobile network just with decent customer service you need a good infrastructure to go with which is something vodafone clearly lacks. I will not be renewing my service at the end of my contract," said Cenk.
If you have also noticed any Vodafone signal problems, you need to understand that you are not alone. And we have a ready solution for you. Moreover, we have even several alternatives that will be an answer to the question on how to boost Vodafone network in UK. Sounds interesting? Just keep reading!
Vodafone signal booster as an answer to your signal problems
Before you install such a device in your house, or office, or even car if you travel a lot and are tired of Vodafone mobile signal issues in rural areas, let us explain in a couple of words what it is and how it can be helpful.
A Vodafone signal booster is a special device that may have different configurations depending on the type or model that you prefer. However, the aim of such an amplifier is always the same. It is intended for making your Vodafone signal more stable and powerful by:
catching the existing signal that is being sent by your operator;
strengthening it;
and spreading the signal within the coverage area to make it possible for your mobile devices to catch and to use it.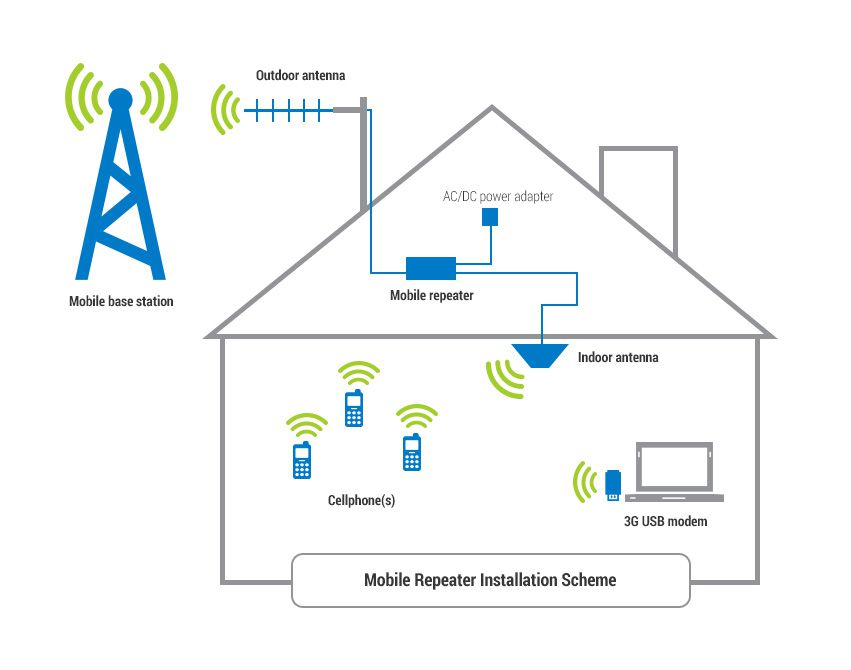 A standard Vodafone UK booster pack includes the following elements, each of them has an important function in accordance the working principle of the device:
an outdoor antenna (this element is responsible for catching a poor Vodafone signal);
a booster box (this part of a Vodafone repeater kit is the main one as it strengthens the signal);
an indoor antenna (it disseminates the signal within the coverage area of your booster).
Sometimes even a standard set of a Vodafone network booster for home or office has more than one indoor antenna. Such devices are intended for being installed in buildings with large inside area. Moreover, there is a possibility to upgrade your device with additional antennas or splitters if there is such a necessity.
Featured boosters to improve Vodafone signal
Discount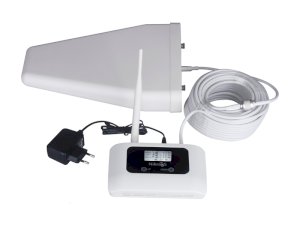 Vodafone signal repeater
4.9/5 — 184 Reviews
Coverage:1400 ft²
Calls
Discount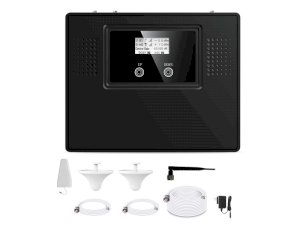 Vodafone cell phone amplifier
4.9/5 — 112 Reviews
Coverage:3300 ft²
Calls
4G/LTE
3G
Discount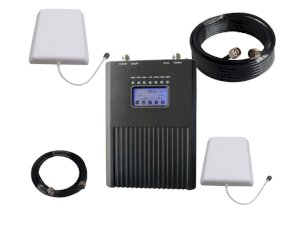 Vodafone repeater
4.9/5 — 136 Reviews
Coverage:3300 ft²
Calls
4G/LTE
3G
How to install a mobile phone signal booster for Vodafone
Actually, there is nothing too complicated in installing a Vodafone repeater. And even if you do not have any special tech skills, it will take around 10-15 minutes to install your device.
Moreover, when you receive your order, in the box with your booster you will find a manual with detailed step-by-step instructions or you can also find some useful tips on MyAmplifiers website following the link.

The installation process includes the following steps:
Looking for an appropriate location to install your external antenna. The best place for it will be on the roof or near the window. The main requirement for placing this antenna is to do it somewhere where the signal will be comparatively strong. It will be good to find a place where you will have at least 3 signal bars;
Plugging in this antenna to the Vodafone booster box;
Finding a place for your indoor antenna. It is required to install it at least at 5-meter distance from the external antenna and at least 2 meters above the floor;
Plugging in the second antenna to the Vodafone booster box;
Connecting the Vodafone booster box to the Power Supply.
Done! Now you can proceed to testing and enjoying your improved signal.
Choose the best Vodafone mobile signal booster!
We have several ideas that you can consider if you have decided to improve your Vodafone signal with a repeater. Even if you have a limited budget, you can create a booster practically for free. But is it really worth it?
DIY Vodafone booster

If you like Do-it-yourself project, this variant is definitely for you! The investments will be extremely low but nobody guarantees its security and efficiency, even if you do everything correctly following the instructions.
Yes, you can create a mechanism to strengthen your Vodafone network signal on your own. To do it, you need:
an iron wire (0.35-0.4 m),
a bolt and a nut,
2 connector blocks,
a coaxial cable (nearly 10 m),
a water pipe,
a plastic container.
If you feel like building a booster on your own, you definitely should try! We even have detailed instructions for you. But before you start, we offer you to consider all pluses and minuses of this solution.
Advantages of DIY boosters:
It is cheap to build such a repeater.
The process can be rather interesting.
Disadvantages of DIY boosters:
You need to find certain materials on your own.
Some tech skills are required.
Nobody guarantees that your booster will work.
Safety is not guaranteed as well.
Given the above-mentioned points, is it feasible to create a Vodafone signal booster on your own? It's up to you to decide.
"No-name" Vodafone cell booster

If you have experience on buying good on AliExpress, you definitely know that on this platform you can find practically everything that you can only wish for, even a dog with a head of a unicorn J That's why it won't be very difficult to find a signal booster for Vodafone.
But we should admit that it is not a real booster, it is a much cheaper fake. Boosters as well as smartphones, tablets or laptops are quite serious devices and it will quite risky to buy them on the platforms that have a rather controversial reputation.
Advantages of very cheap boosters:
Price is the main benefit of these models.
The buying process on AliExpress is quite simple.
Disadvantages of very cheap boosters:
The quality of these boosters is not proved and guaranteed.
The delivery in UK may take months and even longer.
If the booster was produced by an unscrupulous manufacturer, it can be rather dangerous to use it.
However, if you are a risky person, why not?
A simple booster model for calls
Nikrans LCD-130 is of the cheapest boosters of the highest quality. At first glance, you may decide that it is too small to be powerful but that's a wrong conclusion. Despite its sizes, it is strong enough to boost your Vodafone GSM signal from 0-1 bar to 4-5 bars without any effort from you side.
But bear in mind: this booster is able to work only with one frequency band and, as a result, to improve only one type of signal.
The tests have shown excellent results of this booster not only in laboratory conditions but in real life as well. It's really cool that you get a full kit when you buy this device on the MyAmplifiers website.
The booster is able to cover an inside area of up to 1400 ft².
Mike from Norway wrote: "When I moved to a new flat, I didn't expect that my GSM signal would be so low that making a call would be an impossible task. LCD-130 has become an awesome solution."

"LCD-130 was my anniversary present for my grandparents. They spend a lot of time in their summer cottage and, of course, it's clear that staying isolated from everyone was quite irritating for them. Even my grandpa who had never seen such devices before managed to install this booster without any help," noted Jona L. from Finland.

Advantages of Nikrans LCD-130:
The device has excellent capacities in improving Vodafone UK GSM signal.
MyAmplifiers offers a good price.
Warranty from MyAmplifiers is provided to all customers.
Compact sizes and stylish design make this booster appropriate for any room.
Disadvantages of Nikrans LCD-130:
The coverage is comparatively small and may be not sufficient for a large house.
The device works with one frequency band only.
You can buy this Vodafone home signal booster following the link. The price is very pleasant - just £120.
The most popular Vodafone repeater for GSM, 3G and 4G signals
Nikrans LCD-300GD is a good example of a Vodafone cell signal booster that combines all the most highly-demanded features. It is able to improve your calls and mobile internet at the same time. So, you can buy it not just as a Vodafone 4G signal booster but as an amplifier for calls as well.
We've checked whether the booster is able to send the signal to several smartphones simultaneously. And yes, it is. The quality of the signal is not spoilt at all.
Even if your house is located rather far away from the nearest cell towel, an antenna of this model will easily catch. The only thing is just to install it correctly.
The coverage area is of around 3200 ft² which means that it can be installed in rather big private houses.
"I like that the booster works with the quality of calls and the mobile internet simultaneously. The booster has helped me to solve the problems with a mobile signal. As I see many users like the guide but personally I haven't found it very useful", said Melker Arvidsson from Sweden.

Lena W. from Poland also shared her thoughts: "I think that's a very nice solution for those who suffer from problems with voice services and mobile internet and do not want to create any antennas or smth like that themselves. The price is absolutely fair and the quality is amazing."

Advantages of Nikrans LCD-300GD:
The booster represents a very good price-quality ratio.
It can amplify 3 types of signal at the same time.
It is compatible with all the operators that work on the same frequency bands.
The device is absolutely safe which is proved by international certificates.
The device is easy to use and install.
The booster has excellent coverage.
Disadvantages of Nikrans LCD-300GD:
Some people say that they would like to see a more modern design.
Actually, it looks like a very feasible option. Don't you think so?
You can buy this booster for just £340 here.
An advanced professional Vodafone repeater for calls, 3G and 4G
Nikrans NS-300-Multi is an advanced professional signal booster that is reasonably viewed as the most innovative one on our list. It works with 5 bands (just imagine: our 2 previously mentioned MyAmplifiers boosters works with 1 and 3 bands respectively).
The coverage of this model is just the same as of Nikrans LCD-300GD and is of around 3200ft². As well as the model described above, Nikrans NS-300-Multi is able to work with the quality of voice, messaging and internet services at the same time.
But there is one huge difference between these two models – the price. Nikrans NS-300-Multi is more expensive which is explained by the number of frequency bands that it can work with. In this aspect, Nikrans NS-300-Multi is a leader.
The more frequency bands the device can work with, with the more operators will be compatible with it. So, this Vodafone cell phone signal booster can be a good option for office buildings and business centers in UK.
What do users think?
Josef P. from Sweden said: "The best booster for an office! It supports multiple signals and multiple devices. Isn't that cool? The price is absolutely affordable for such a device. Great functioning. The booster is available in one colour only."

Flóra Török from Hungary has a similar opinion: "We ordered NS-300-Multi for our office. We have 3 rooms and there 12 people in our team. And this device has sufficient coverage for all of us. That's quite impressive."

Advantages of Nikrans NS-300-Multi:
The device demonstrates very stable coverage and strong connection.
It works with 5 frequency bands.
It is absolutely safe for your health.
The booster is 100% energy-efficient.
Disadvantages of Nikrans NS-300-Multi:
This booster is rather expensive.
The booster box is blue which may be not the best option in your interior.
There is no doubt that the device is powerful and reliable. But does everyone need to have a booster that supports 5 bands when he or she is looking for a booster for home?
Click here to buy NS-300-Multi for £670 right now.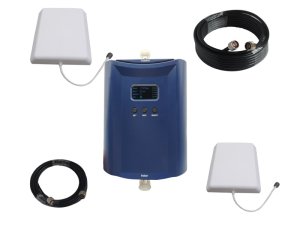 + FREE
Lightning Surge Protector

5/5 —

32 Reviews


Product Description »
Specification »
Reviews »
3300 ft²
Conclusion: Which Vodafone UK mobile booster is better?
Of course, the only person who should make a decision on which booster to choose is you. We've shared with you our thoughts and provided our arguments. So, we offer you to consider them all very attentively.
However, we have the following opinion: if you do not want to take a risk and to lose your time and money without solving the signal problem, you should rely on professional solutions. That's why Vodafone repeaters from MyAmplifiers can become a very good option.
And while Nikrans LCD-130 may have not enough functionality for you (it works only with GSM signal) and NS-300-Multi may be too expensive, Nikrans LCD-300GD is definitely a good option.
Its price is absolutely reasonable and the functionality is enough for an average family or company.
It is one of the most popular models that has already helped hundreds of Vodafone users.
If you are afraid that you won't manage to install a repeater on your own, leave your doubts aside. The MyAmplifiers support team will be always ready to help you!
3 Band
Calls
4G/LTE
3G
5G
4.9/5 — 112 Reviews
Coverage: 3300 ft²
$605 $730 You save: $125