Well I hope that you will help me to solve the problem I've faced lately. I spend almost all my life as it's said 'on the road' driving my truck across Europe and the quality of mobile signal in some road sections wishes to be better indeed. So I've been asking my employer to increase the quality of cell phone reception many times, but without any result and decided to solve my problem on my own. I've heard that there are special gsm amplifiers or so called boosters for cars. Could you suggest me one. Thanks in advance, really looking forward to your reply.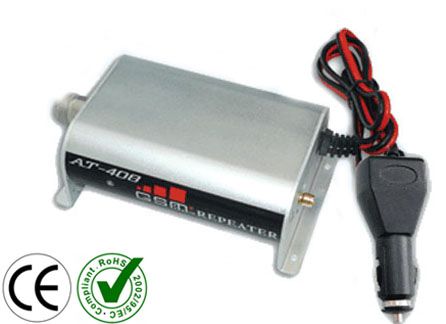 Hello, we are really glad to meet you at our store and firstly AnyTone wants to make sure that you are in the right place. Our company takes care about people who due to their profession travel a lot or just have no opportunity to work in the office and all the calls make from the car or other vehicles as well. For having stable cellular network on the way and for getting rid of several 'mobile connection abysses' special amplifiers for cars were manufactured. For example, AnyTone AT408 gsm amplifier is designed specifically for cars and seems to be the most effective way to solve the problem of constant or frequent disconnection while you are driving. It seems to us that according to your profession you work in all the European countries, so AT 408 gsm amplifier works well at 900 mhz frequency there.
Car gsm amplifiers are delivered in a kit with all the necessary appliances and components, so everything you need is just to set it up without any special abilities and annoying discomfort. Our car amplifier is beautiful, effective and compact device, which doesn't need much space in the car or truck. Well you don't need to waste your time, nerves and extra money for any additional details or gadgets. And by the way you will receive this gsm repeater for a symbolic price. Order this amplifier at our store and use it with a great pleasure.
If you need to use mobile Internet on the go we can also offer you one more AT4800 3g mobile UMTS car repeater. This repeater is the best for those who prefer to be connected not leaving the car supporting effective and constant 3g connection wherever you drive. We invite you to visit Helper on our website which will help you to choose a repeater for you and your family for every taste.
Enjoy using AnyTone repeaters and stay connected.