There is no need to explain the importance of smartphones today. And there is definitely no need to explain how irritating it is when you can't make a call or get connected to the internet due to poor signal reception.
But unfortunately, it can happen. And there are a lot of reasons for that. In this article, we are going to tell you about the factors that may lead to the connection deterioration and, what is even more important, we will offer a solution that will help you to overcome problems of this kind.


Why does a smartphone continue losing signal?
Let's try to understand what can be a reason for your dropped calls and lost mobile internet connection. All this happened due to poor signal reception. But why do mobile phone owners worldwide suffer from it?
Usually, we think that our dropped calls are the fault of our mobile operator. However, it is crucial to understand that it's not always true. Very often we put blame on carriers without taking into account dozens of other factors that may have a negative impact on the quality of your connection.
Huge distance from the nearest cell tower. If your smartphone is located too far away from the cell tower that is intended for transmitting a signal from your operator, only a very weak signal can reach the device.
Landscape and other natural peculiarities. High trees, hills, and mountains can become natural obstacles for a cellular signal. Moreover, even weather conditions like heavy rains and fogs can negatively influence the signal.
Peculiarities of buildings and infrastructural facilities. It's interesting to note that not only nature but also people can create obstacles for a mobile signal. For example, some building materials like steel, concrete, and metal can prevent a signal from reaching your mobile devices located inside. Moreover, if you live in a city, you may suffer from poor connection due to the big number of large buildings around you.
What's more, many people notice that they have significantly lower signal power inside a car or another vehicle. It can be explained by the fact that vehicles are made of glass and metal and these two materials work as blockers for a signal.
All these factors look quite impossible to improve. But what can you do to avoid dropped calls and other issues with your connection? Do not worry, we have a couple of ideas.
What should you do if your iPhone or Android phone often loses signal?

Actually, in addition to all the above-mentioned conditions that can lead to signal deterioration, there can be some other more specific cases. If your iOS or Android device keeps losing connection, we recommend you perform a couple of actions that may help to improve the situation.
Check your SIM card. It may be damaged. If it is so, contact your operator and get a new SIM card (as a rule, despite changing the card itself, you can keep the same phone number). If the card doesn't look damaged, insert it back. It sounds unbelievable, but these simple steps can help!
Turn your smartphone off, wait for a couple of seconds and turn it on again. When you turn your device off, some apps are forced to close and some space can be freed up. And as a result, the device can start working better.
Close the apps that you are not using. The sense of this action is quite similar to the one of the previously mentioned step. You need to close background apps to clear your cache memory.
Go to Settings and activate Caller ID. This method may help to solve the problem if you have an iPhone.
Set your phone's date and time automatically. It may sound strange but it can help, especially if you have recently visited other time zones and now have come back. 
Check whether your operator has introduced any updates.
Other ways to fix signal issues

There are a couple of other simple tips for those who want to improve the signal quality.
Remove a case from your smartphone, if you have it. A case can be a blocker for a signal as it covers an internal antenna.
Charge the battery. Very often, when your device has a low battery, it may start losing connection.
Go outside. As we've mentioned, very often building materials can prevent your signal from reaching your phone. But when you are outdoors, the connection can be more stable.
Try to find the nearest cell tower. You can use an app or a website for that. When you will know from which direction your signal is being transmitted, you can understand where in the building our connection can be stronger.
Try to use WiFi calling. Many cell carriers today support this option, so, as a temporary solution, it can be a good variant.
What is the best solution for signal problems?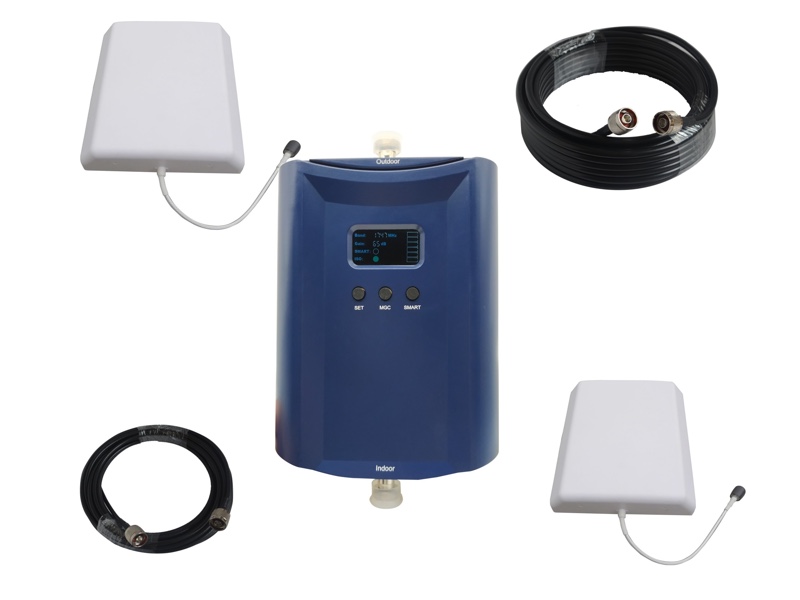 However, as you can see the majority of the solutions that we've mentioned above can help only for a limited period of time. If you have a permanent problem at home or in the office, you definitely need another solution. And we know what it can be. Have you ever heard about mobile phone signal boosters?
These devices are intended for receiving a poor signal, making it stronger and disseminating it within its coverage area. By the way, today there are a lot of devices for different buildings. You can buy a repeater for a small flat or for a huge shopping mall (yes, the price will differ but thanks to this fact you do not need to overpay for a booster that will be installed in small offices or private houses).
A standard booster kit includes:
One outdoor antenna
One indoor antenna
One booster box
Cables and mountings
One user's manual
Once you install a booster, you can forget about dropped calls and other signal issues. With our devices, you can improve GSM, 3G, 4G, and 5G signals as well. We guarantee you the best price-quality ratio and 100% safety of our boosters. 
You can have a look at all the available options in our online catalogue. But if you have any questions about our cell phone signal boosters, do not hesitate to contact us! Our team will be always happy to help you!
3 Band
Calls
4G/LTE
3G
5G
4.9/5 — 76 Reviews
Coverage: 3300 ft²
$545