Many of us do not even think about how mobile networks work till the moment when we face serious signal issues. However, to get an understanding of how it all works, there is no need to dive deep into detail. High-level knowledge will be more than enough. In this article, we are going to explain to you how a signal reaches your mobile devices, why it can be spoilt and, what is even more important, how you can solve your signal issues on your own. 
Content

How mobile networks work
Mobile signals can be transmitted at different frequency bands. The exact band used for this or that signal type depends on the region where you live and the operator the services of which you use.
For example, the GSM signal that we usually use for voice calls is transmitted at 900 and 1900 MHz. 3G works at 900 and 2100 MHz bands. And 4G that is the most popular option for internet connection today works at 800, 900, 1800, 2100 and 2600 MHz.
The frequency chosen by your operator is one of the factors that have an impact on the distance at which the signal can be sent by a cell tower. For example, when 900 MHz frequency is used, the signal can cover bigger distances in comparison to the situations when 2100 and 2600 MHz are applied.
Reasons for bad connection
But why can your signal be spoilt? The reasons for your unstable internet connection or poor quality of voice calls can be different.

First of all, when we are talking about rural areas, the most popular reason is the lack of cell towers in your neighborhood. When the nearest cell tower is located too far away, only a very weak signal (if any at all) can reach your mobile phone. But when we take the situation when your house or office is situated in an area with a sufficient number of cell towers there, there are a lot of other reasons:
Location. Those houses that are surrounded by many high trees or other buildings potentially can face an awful connection. Moreover, if your room is located on the ground floor or in the basement, there are also high chances that you will have to look for solutions that will be able to improve the quality of your signal.
Peculiarities of the building. The configuration of your building can be also enumerated among the factors that may influence the power of your network signal. Due to the fact that some rooms can be "hidden" inside the house, the power of signal there can be significantly lower than in those rooms that have windows.
Construction materials. Some materials practically do not let the signal get inside of the building. For example, concrete and metal are among such materials.
In such cases, under the influence of the above-mentioned factors, in-built antennas of your mobile devices are not able to receive the signal. As a result, the connection can be very unstable and can be easily lost.
Solution for mobile signal problems 
But if you think that after enumerating these factors, we are going to offer you to move to another house when you have any issues with your signal, you are wrong. There is a much better, cheaper and easier solution! Have you ever heard about mobile signal boosters?
Regardless of the exact type of such a device that will be under consideration, the working principle of boosters and repeaters is always the same. These devices have a powerful outdoor antenna (that is more sensitive to signal than smartphone antennas), they can get even a very low signal transmitted by your operator. Then this signal is strengthened by a booster and sent to mobile devices via the second antenna that is installed indoors. Sometimes, boosters have more than 1 indoor antenna.
If you are not ready to buy such a device (let's admit that reliable boosters are not very cheap), you can create it on your own.
How to build a booster on your own
The simplest solution that we can offer is a booster made from an aluminum can. Actually, it won't be a full-scale device. It will be something like a reflector that we will use for the antenna that we already have (a router, for example). This element will concentrate the signal in one direction.
To build it you will need to have:
An empty aluminum can
Scissors or a knife
When a can is empty, you should make a couple of incisions near the bottom and the top of the can. Then cut the can along its length and bend back the "petals", they shouldn't be too long.

The installation won't be challenging. Cut off the bottom of the can and also the can opener. Using the hole that we have now in the top part of the can, we can fix it at the antenna of the router and direct it to the side where the nearest signal tower is located. Done!
If your router has two or more antennas, to reach better results, you can create two or more reflectors of this kind.
DIY antenna
If you want to increase the quality of your GSM, 3G or 4G signal, there is also a solution for you. You can create an antenna that will help you to stabilize your connection as well as:
To reduce radiation emissions by your smartphone
To make the service life of the smartphone battery longer
To increase the quality of your mobile communication

To build such an antenna you need:
a cable (10 m)
A connector
Sticky tape
Any wire but not the one made of copper (30-40 sm)
Plastic
A junction block
A polymer pipe (20 sm)
Bend a wire at a right angle twice to get a rhombus. The ends of the wire should be bent to the center and connected to the block. The block should be also used for connecting our device. To do that, you also should cut a pipe along one side and make a small hole in another part. Then you can connect a coaxial cable. One part should be connected to the antenna and the second one – to the plastic board. The device should be installed on the roof.

Actually, this DIY project is not the most difficult one that we can imagine. 
But in any case, it requires some skills, knowledge, and what is even more important – time, from your side. However, are there any solutions for those who do not have any desire to build a booster on their own? And of course, yes! 
Professional solution
Today you can solve your signal issues just in a couple of clicks. At MyAmplifiers, we offer a wide range of powerful signal boosters that can solve different types of connection problems. There are boosters intended for increasing the quality of only one type of signal (for example, only 3G, 4G or GSM) but there are also boosters like Nikrans LCD-300GD that are designed to work with all three types of signal at the same time.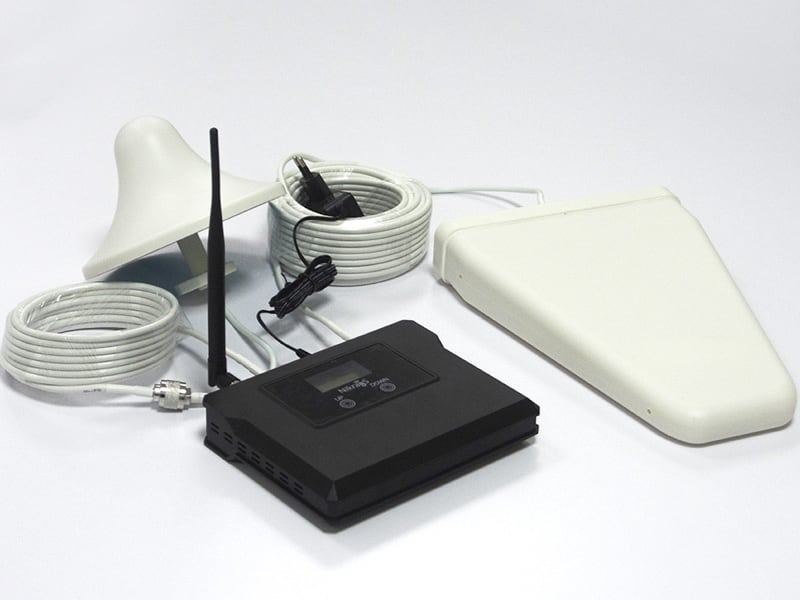 What are the benefits of buying a professional solution instead of building your own antenna?
You can be sure that your device will work. We guarantee the efficiency of our boosters but when you create a booster on your own, you can't be sure that it will work correctly and demonstrate the desired results.
You will get a warranty and all the necessary tech support. This point is closely connected to the above mentioned one,
You do not need to spend your time for buying all the materials and creating a device. You will have just to place an order and wait for a couple of days for its delivery.
Our devices are fully safe. The quality and safety of our boosters are proved by the CE and RoHS certificates.
Your booster will have a set coverage area and you will be sure that all rooms of your house or office will get a powerful signal. In the case of DIY boosters, there is always a risk that their coverage won't be enough.
Let's admit that it is always easier to buy a ready-made solution than to build it. However, if you feel like trying we sincerely wish you good luck. But if you think that a professional solution will suit you better, do not hesitate to contact us, we will be always ready to provide the necessary information and assistance.

5/5 — 32 Reviews
Coverage: 3300 ft²
$905