Nowadays it's quite a natural desire to have a high-quality speedy mobile internet connection that will allow you not only to surf the net or send massages in mobile apps but also to watch films, listen to music, make video calls as well as upload and download various files.
At the moment 4G LTE network is the most advanced widespread mobile technology which is intended for providing mobile users with all the above mentioned opportunities.
4G is the key mobile network. Some operators are even going to reject the 3G services. And of them of them is Vodafone. Vodafone UK CEO Ahmed Essam claimed:
"3G has connected so many customers over the last 17 years, but the future is 4G and 5G."
Nevertheless, due to a great variety of external influencing factors, the power of 4G signal may be too weak to let people enjoy their mobile internet that they pay for.

How to Solve 4G Signal Problems
To sit trying to guess how to improve 4G signal at home or in the office and to wait for some changes is not a solution. A solution is to order a mobile internet booster. Even if you have never heard about such a device that can easily boost 4G signal, it won't take long to understand how it works and how it can enhance your mobile communication experience.
A mobile internet signal booster is a special device used for improving 4G signal via copying the upcoming signal. In other words, to boost 4G network signal a booster catches the signal transferred by the closest cell tower of your mobile services provider and makes it stronger. As a result, your smartphone or any other internet enabled mobile device gets a possibility to receive a more powerful signal and to use it.
What's more, usually, 4G signal boosters not only receive the upcoming signal from the cell tower but also send the signal from your mobile device to the cell tower in order to ensure its stable connection.
Elements of 4G Signal Repeater
To realize better how it works, it's necessary to understand what this device looks like. It represents itself a combination of several elements. Each 4G signal repeater has two antennas. One antenna is to be installed outdoors while the second one should be placed inside a building. The task of the first antenna is to ensure the connection with the closest cell tower. By the way, it is so powerful and sensitive that it is able to catch the network signal even when it is too weak to be caught by your smartphone. The inside antenna is used to connect your mobile device with the 4G amplifier.
But two antennas would be absolutely ineffective without the most important element of the kit – a booster box itself. It receives poor 4G signal and boosts it while the antennas ensure the connection with the external world.
How to Choose a Mobile Internet Signal Booster
Now you know how to boost 4G signal, but there are some more things that you need to bear in mind if you want to order such a device that will improve 4G signal for you.
On our website you can find a great choice of 4G signal boosters compatible with different mobile operators. That's why while making your choice, please, be careful, and pay attention to the fact that not all the available variants will work with your network.
Though on our website, we have a clear indication for each booster that shows whether it is compatible with this or that operator, we also advise you to check the frequency bands that your operator. Below you can find a table that demonstrates the list of bands used by carriers in the US. In Europe, the bands will be different
| | |
| --- | --- |
| 600 MHz (B71) | T-Mobile |
| 700 MHz (B17, B12, B13) | AT&T, T-Mobile, US Cellular (B12), Verizon (B13) |
| 850 MHz (B26, B5) | Sprint, US Cellular (B5) |
| 1.7/ 2.1 GHz AWS (B4) | AT&T, Verizon, T-Mobile |
| 1.9 GHz (B2, B25) | AT&T, Verizon, T-Mobile, Sprint (B25) |
| 2.3 GHz (B30) | AT&T |
| 2.5 GHz ( B41) | AT&T, Sprint |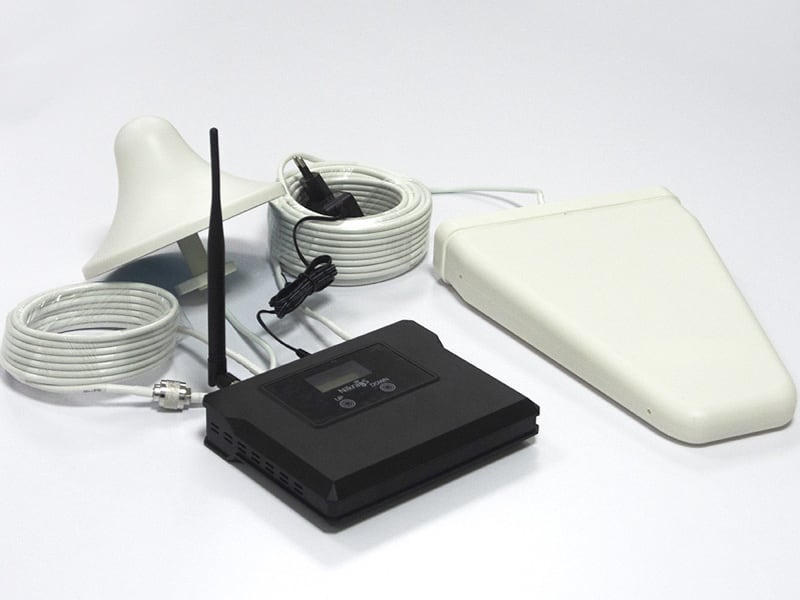 Moreover, different models of 4G amplifiers for home have different coverage. You should clearly understand where you want to boost 4G signal. Some boosters can be an ideal variant for small apartments and offices, while some others are designed to be installed in huge private houses, supermarkets and hotels.
So, let's summarize what parameters should be taken into account of you want to find a booster that will be the best one for you:
Compatibility with the exact set of frequency bands (and, consequently, compatibility with your operator)
Coverage (you should know exactly what inside area you need to cover with the improved mobile signal)
Reliability of a seller and quality of a device (all our devices are approved by the CE and RoHS certification systems)
Please, be very attentive while making your choice, as only the amplifier that has been chosen correctly will guarantee the highest effectiveness of its usage.
As for the installation of these devices, don't worry. You will get a nice detailed guide with your order. Even if you don't have any technical background, you will manage to install your 4G amplifier without any difficulties.
Actually, there are no serious rules regarding the installation process and some recommendations may differ based on the peculiarities of booster models. The main requirements are usually related to antennas.
Some outdoor antennas have to be placed in such a way that will guarantee easier reception of the signal. To ensure that, you need to find the right direction. If a booster gas an LCD screen, it will show tips that will facilitate this task for you.
Also, please, do not ignore the requirements related to the vertical distance between indoor and outdoor antennas.
On our website, you can find a wide range of 4G signal boosters, read their descriptions and analyze the reviews written by our clients. To those who are looking for a reliable 4G repeater, we can recommend considering Nikrans LCD250-4G-D. It is a very powerful and easy-to-use model that has already won the hearts of dozens of our customers from different corners of the world. Just follow the link and place an order in a few clicks!
If you need to get more information about the working principle of these devices and their peculiarities, please, contact our Sales team. Our specialists will be happy to help you.

4.9/5 — 96 Reviews
Coverage: 2700 ft²
$415