Poor cell phone signal especially at home can be a problem given that the phone connects you to the entire world. Moreover, home is one place where one spends the maximum time on phone after work. Therefore, a poor phone signal reception at home can affect one's personal as well as professional life. So, how to solve cell phone signal problem in home? We offer a mobile signal booster as the best solution to this problem. It is easily available, affordable and enhances the cell phone reception drastically.
Cell phone signal boosters are made to intensify the phone signal outside your home whose quality deteriorates due to certain building materials (wood, concrete, plaster, etc.) or geographical hindrances like mountains. A mobile signal booster is wireless, which means that the user does not have to attach or plug the cell phone to some tether.
It is a simple to use and install gadget, which is available at an affordable price helping you resolve the issue of how to solve cell phone signal problem in home.
How Mobile Signal Booster Works
To learn how mobile signal booster works, take into account what components the equipment has. A mobile signal booster comes along with an antenna which carries the signal received from outside, inside the home via a cable to the base unit/receiver. Concisely, they capture the outside signal and expand the cell phone signal zone by enhancing it.
A cell booster is easy to install and the carrier is not specially required to set up the amplifier. It comes with easy to follow instructions and there is no need to install a program for the same. An outside antenna is to be simply placed outside for receiving signal, attached with a cable connected to the base unit and simply plugging it in for cell phone signal with an increased cell phone signal zone. Knowing the principle of how mobile signal booster works you will have no problems with assembling and installation of the equipment.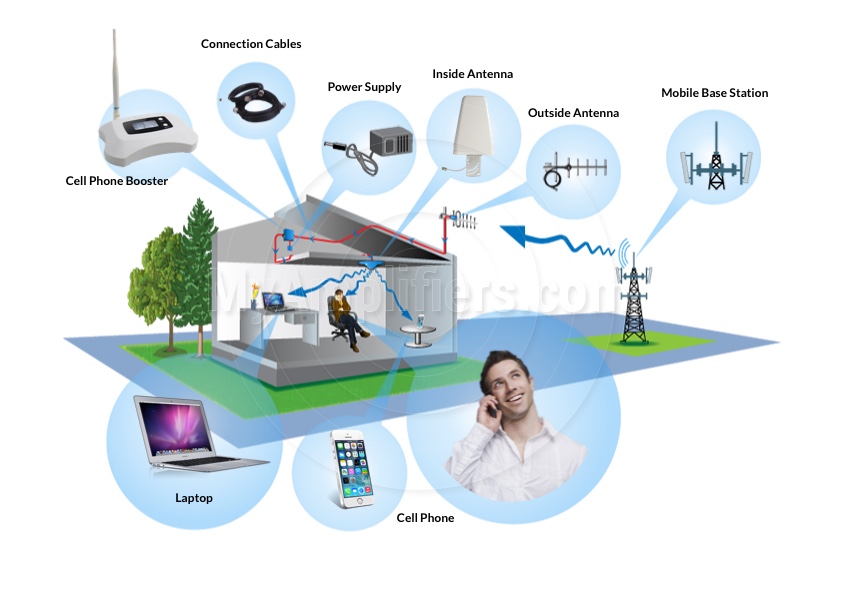 Range and Coverage Area
A mobile signal repeater comes in various designs and each solves a different purpose in accordance with the range and the area to be covered by a cell phone booster. Each mobile signal amplifier has a different frequency according to the requirement of the user. For example, for 3G Internet connection you need a mobile signal booster of 2100 Mhz and for improving cellular communication choose GSM mobile signal booster.
Therefore, the main thing to be considered before buying mobile signal amplifier is to determine the requirement of the area to be covered by the cellular booster. It is best to place the antenna where there are 2-3 bars of signal like on the roof for optimum signal quality inside the house.
Benefits of Mobile Signal Booster
Increases the signal strength of the cell phone resulting better reception and better usage of your mobile phone
You can choose a mobile signal repeater in accordance with the range of area to be covered for enhanced signal coverage
Eliminates the possibility of distortion in calls due to poor reception. Increased signal ensures voice clarity and removal of obstructions like faded or blurred audio data.
They are cost-efficient. The costs involved in the need of making multiple calls due to cracked audio data are eliminated saving time, effort and money of the user.
Now when you know how to solve cell phone signal problem in home using a GSM amplifier, you will never suffer from bad cell phone connection.