There are a lot of factors, which make barriers for the signals, and thus users have problems with weak or low signals especially in tunnels, garages and parking lots, offices and even houses they live in. So in this connection AnyTone has developed special devices for improving mobile signals called amplifiers.
More than five years of hard work and there it is – our amplifiers are widely spread around the world! We are pleased to introduce AnyTone 900 mhz amplifiers. This type of gsm amplifiers is popular among the users in the European Union and synchronized with working frequencies of most European mobile operators at 900 mhz. For amplifying mobile signal at the frequency of 1800 mhz we suggest you to check 1800 mhz amplifiers for this frequency only. To have a stable 3g connection separately from gsm signal boosting you need to use AnyTone 3g amplifiers, which work at the frequency of 2100 mhz and are suitable for the Internet connection only.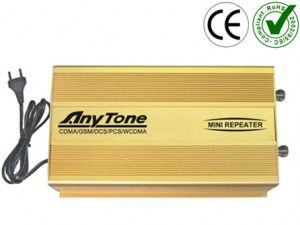 Surely, if you need to improve the quality of gsm signals at both these frequencies and 3g reception as well, you should check the list of the so-called dual band boosters. The remarkable feature of that type of booster is their opportunity to increase gsm signals of different frequencies in one device, amplify gsm and 3g signals in one appliance as well. There is a useful Helper on our website which helps you to choose the most suitable amplifier for you and to check the working frequency of mobile operator you use.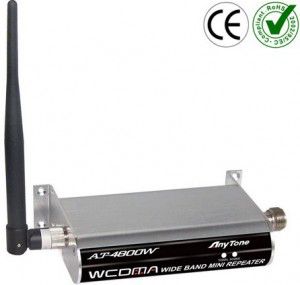 AnyTone amplifiers catch even the lowest gsm signal from the mobile base station and stabilize cell phone connection in different places. One of the most popular applications of signal amplifiers is a house and there were manufactured special amplifiers for small houses and middle sized buildings, and big buildings. When a house or a building is located too far from the cell phone base station which is usually installed in the nearest city or town, the signal from a mobile may get very low. Especially it applies to the underground parts of the house, building such as a garage or a basement floor. For having stable cellular network on the way and for getting rid of several 'mobile connection abysses' gsm amplifiers for cars were designed. These amplifiers are manufactured specifically for cars and seem to be the most effective way to solve the problem of constant or frequent disconnection while you are driving.
Now you know what purposes you can use our boosters for, so don't wait – check the square of area for boosting signal, contact AnyTone customer service and order an amplifier you decided to purchase. Enjoy AnyTone production!