For those who are looking for a device to deal with all types of mobile signal issues, we could recommend considering such an innovative GSM, 3G, 4G mobile signal booster as Nikrans NS-300-Smart. The main peculiarity of this device is its compatibility with all signal networks. That's why many MyAmplifiers' clients note that this booster can be a very good solution for offices and other locations where there can be a lot of visitors who use the services of different operators. If you want to know more about this cells signal booster, just continue reading his article.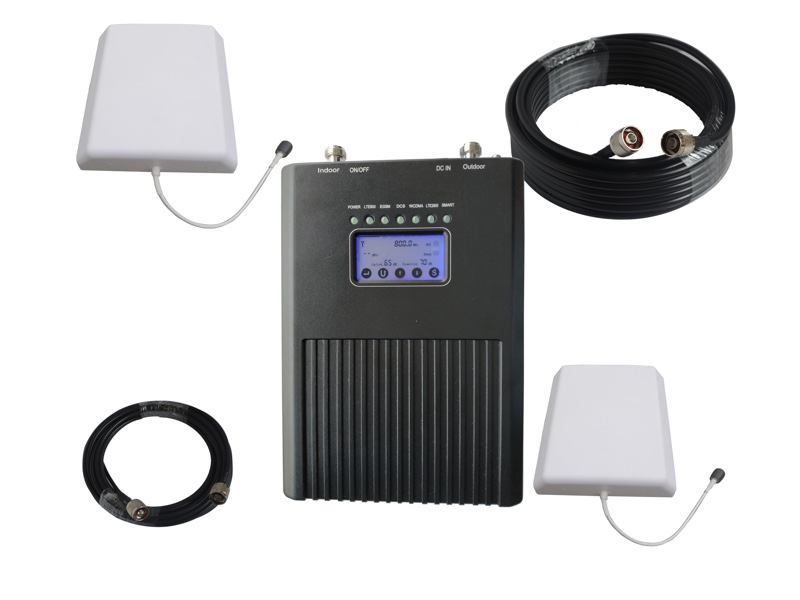 NS-300-Smart: Key elements
NS-300-Smart works with the mobile signals transmitted at 900 (GSM) and 1800 MHz (GSM+4G), 2100 MHz (3G), 800 and 2600 MHz (4G). These frequencies are used in many countries all over the world, including numerous European countries. The device has a coverage area of up to 300 m² (3,230 ft²).
The reliability of this booster and its safety for your health is proven by the CE and RoHS international certification systems.
Let's take a closer look at this device and proceed to the GSM, 3G, 4G mobile signal booster review. Now it's time to see what we have in a standard kit.

A standard kit includes everything that is required for booster functioning:
a cellular signal amplifier,
an indoor antenna + 5m cable,
an outdoor antenna + 10m cable,
a power supply (the type will depend on the country where you live),
coaxial cable (5 m and 10 m),
mountings
If you are afraid that you won't manage to install this device, leave these fears aside. You will definitely cope with this task. Below you will find our instructions. Moreover, together with your order, you will receive a manual.

How to install this booster?
We offer you to start assembling the device by connecting a cable to an outdoor antenna that will catch signals transmitted by local operators.

One end of the 10-meter cable should be connected to the antenna itself and the second one — to the booster box.

Now we need to repeat this task in relation to the indoor antenna that will send the improved signal to mobile devices. One end of our 5-meter coaxial cable should go to the indoor antenna plug and the second end should go to the corresponding plug of the booster box.
After that, it's time to connect a power supply and switch on the booster.
Everything is ready! Please note that there is no need to use any special cables and wires to connect your smartphone to the booster.
Nikrans NS-300-Smart: Key advantages
Possibility to increase the power of GSM, 3G and 4G signals at the same time
Support of multiple simultaneous connections
Automatic detection of antenna isolation
Sleep mode
Manual and automatic gain control
Display with a touch screen for tracking the signal state and adjusting settings 
What do users of Nikrans NS-300-Smart booster think?
Today Nikrans NS-300-Smart fully meets the industry standards and boasts great popularity among our clients. Each device of this model undergoes a multiple-step testing procedure in a professional laboratory and we are absolutely sure that we offer a high-quality device.
But if you want to know how this model demonstrates its capacities in practice, the best way to do that is to read the comments and reviews written by those customers who bought this device and now can compare their connection "before" and "after".
For example, Duncan Tyson from the UK bought this device when the first wave of COVID-19 lockdowns began. He had to do something with his awful mobile connection to have the possibility to work from home. "Thank god that I found this website and managed to order a booster that perfectly meets my requirements. Frankly speaking, I didn't expect that I would receive my NS-300-Smart so quickly but just in 3 days after I placed an order, my booster arrived. Thank you, MyAmplifiers, for your excellent service. You have rescued me in this awful quarantine period," shared he.

As for the reviews, the average rate is close to 5 stars. Tomas from Luxembourg also ordered this model. He wrote: "We were looking for a booster for our hotel for quite a long time period. Actually, we liked this model from the very beginning but the price was the main factor that prevented us from buying it just at once. But then we saw that MyAmplifiers introduced a very pleasant special offer and we managed to buy this repeater with a discount that allowed us to save 450 EUR. That's cool!" He also added that the device fully met their expectations.
Other buyers noted that the booster is highly efficient and reliable. Easy installation is among other important benefits.
If you have any questions about the Nikrans NS-300-Smart booster or want to know more about any other models, our experts will be happy to provide you with all the necessary information. Contact us and we will help you to make your signal stronger!
3 Band
Calls
4G/LTE
3G
5G
4.9/5 — 112 Reviews
Coverage: 3300 ft²
$615 $740 You save: $125