Hi, my name is Jim and I'm confused a bit with the situation in which I've got myself in. I work as a manager and live in an apartment house in Paris and I'm really upset with the quality of cell phone connection in my room. Not so long ago I had to make a business call and had no ability to call my partner because of bad cell signal. Such a situation is undesirable for my business and I want to improve the quality of signal in my apartment as soon as possible. I would be really glad to have a professional recommendation in my case.
Hello, Jim. AnyTone's glad to meet you aboard and we hope to give you some piece of advice. We live in the twenty first century and it's a time of high technologies. Many of these technologies have changed the world we live in to better. But at the same time the abundance of developed technologies has led to rather strange situations, when people having all the modern devices and appliances can't use them easily and effectively to the full extent. It's a pity, but cell phone connection is affected by this problem too. For that reason were manufactured special devices called gsm repeaters to make better the quality of signal in the area you live in and stabilize it forever.
Let us introduce you our AnyTone gsm repeaters for increasing cell phone reception in the places with low capacity like the apartment you live in. The models AT600, AT700 or AT800 are very popular among the users and characterized by high efficiency and effectiveness, work well at 900 mhz as most mobile operators of the European Union. But to be absolutely sure, we suggest you to check the working capacity of your mobile operator using Helper on our website. Our constant clients are people who live in big houses or like you in the apartment houses and have frequent problems with disconnection and status 'out of the coverage'. It's annoying and even catastrophic for many of them, so gsm repeaters have made them free of such nuisances.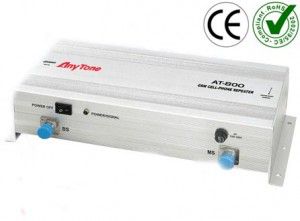 Well everything you need is to order at our store a gsm repeater according to the square of apartment you live in and you will get it without any problems and for a symbolic price. For this you should Contact AnyTone's customer service. The kit includes two antennas (external and internal), a cable, a power supply and a user's manual with detailed instruction for setting up and a repeater per se. The installed repeater lets you have a high quality connection in the area, which was unreachable for cell reception before.
We are sure that for people of your profession it's really important to be always connected and by the way the life of cell phone battery will last longer due to constant and stable connection. Good luck and keep in touch with AnyTone mobile repeaters!