There is hardly any modern person who can live without a cell phone and feel confident and in touch with the outer world. Everybody needs tiny tool when spending time at home, working, strolling in the street and do the shopping, while having a rest or repairing the car. Nobody can deny that having a mobile phone is really beneficial. But still there are unpleasant situations when you badly need to make a call but you cannot do it due to poor gsm signal reception. There cannot be anything more irritating!
The reason is in such moments we are in so called "blind" or "out-of-coverage" zones. And the worst thing is you are not proof against dropped or missed calls anywhere: at home or in the street, while driving in the tunnel or in the garage. Unfortunately we cannot control the power of the signal coming from the base mobile station but we can improve it. Want to know how? By using a gsm signal extender.
The gsm extender, also called gsm amplifier,  is a specific device designed for enhancing and improving mobile signal reception by boosting the signal that comes from the base mobile station. On Myamplifiers.com we are glad to offer you a wide array of broadband mobile extender sets by AnyTone. Here you will definitely find the most suitable type of gsm signal extender that will easily meet your wishes and demands.
Myamplifiers.com includes all the necessary information about the mobile extender and some useful tips for choosing the best gsm signal extender for your individual situation. You can also avail of online manuals with colorful images and detailed descriptions of every gsm extender. Besides, the web site features a thorough explanation of How Cell Phone Amplifier Works. The presented amount of useful information will help everybody to make the right choice.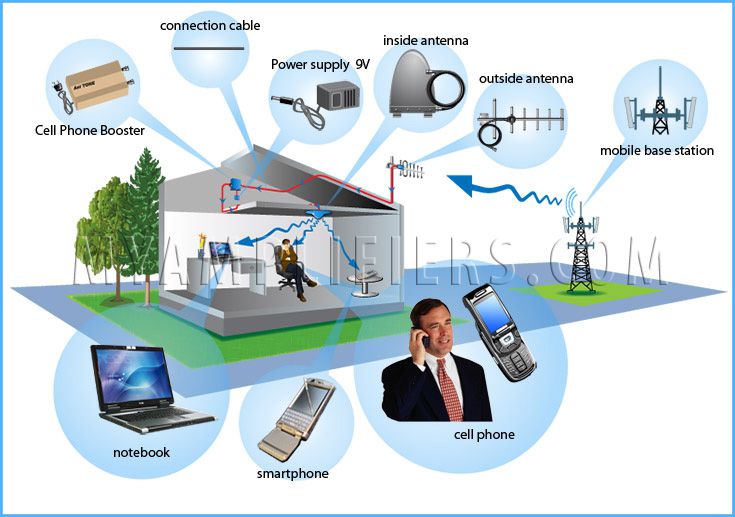 We have all the mobile extender sets divided into categories so that you could quickly find a proper variant for you. In our online store you are sure to find the following types of gsm signal extender: the mobile wireless repeater for small houses, the cell phone booster models for big buildings, and gsm repeaters are able to boost signal in car. Moreover, every gsm extender differs in technical characteristics - up-link and down-link gain, up-link and down-link frequency, and others. Anyway, if you are not sure about what frequency or coverage you need, feel free to consult our 24/7 tech support team.
Every AnyTone gsm signal extender is easy to install and pretty simple to use. With the mobile extender you obtain efficient and reliable mobile signal reception. So if you feel tired of constantly dropped and missed calls, of poor audibility and unavailability, we are here to undertake all issues and provide you with steady connection. Being available for your beloved people and having steady connection in emergent situations is truly great!