If you are one of those numerous mobile services users who have faced signal issues in their houses or offices, this article is definitely for you. We know that mobile signal strength and stability are extremely important in the modern world in both private and professional aspects of our life. That's why we offer a great variety of mobile signal boosters that are intended for improving different types of signal in different locations.
However, the question is how to choose the best mobile signal booster that will perfectly fulfill its functions. We always try to explain to our customers that the best booster is not the most expensive one. The best booster for you is the device that fully meets your requirements and corresponds to the peculiarities of the place where it will be installed.
To find out the parameters that you should pay your special attention to while making your choice, just read this text further.
Signal repeater: how it works
Actually, practically all the boosters that you can find on our website have the same configuration. Consequently, they have just the same working principle. The entire process looks the following way:
An antenna that is installed outdoors finds and catches the signal sent by your carrier. After that, it sends the signal to a booster box.
The booster box should be installed inside your house. It receives the signal from the external antenna and makes it stronger. The amplified signal goes to the second antenna. It should be fixed indoors as well.
When the antenna gets the signal, it transmits it within the coverage area of your device.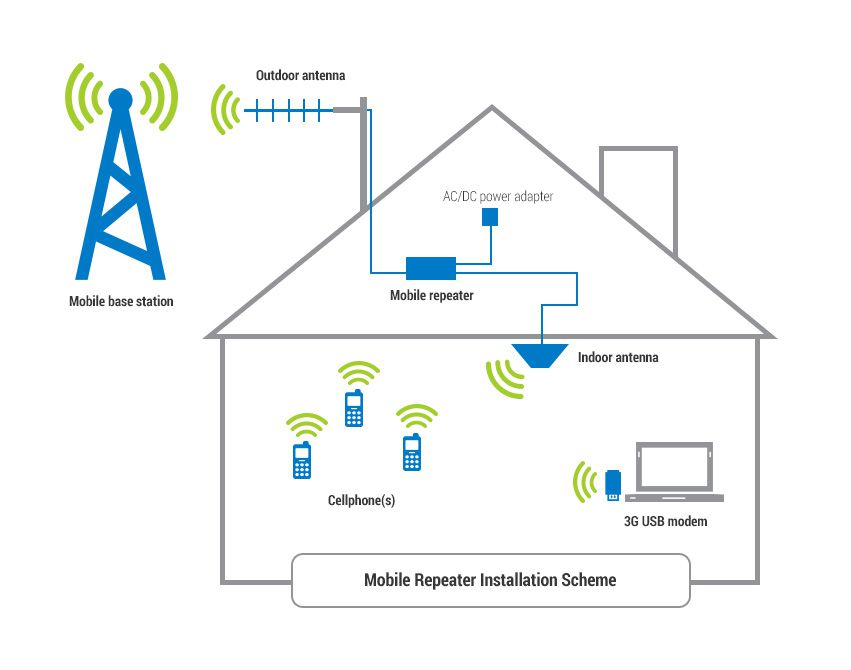 And here we get the first point to take into consideration if you are looking for a signal repeater.
Key parameters to choose the best mobile signal booster
There are a couple of things that make our signal repeaters different. 
The first one is the coverage that the device has. If you buy a repeater that will have a smaller coverage than the area of your house or office, you will see that some rooms or corners will still have poor signal strength. At the same time, you shouldn't buy an expensive booster that has a wider coverage area than you really need.
The second parameter that is probably even more important than the previous one is the range of frequency bands that a device can work with. For example, while there are boosters that amplify only GSM signal or only 4G signal, there are other models that are intended for making all available signals stronger at the same time.
Before starting to look for your best mobile phone signal booster, you need to detect what types of signal issues you have. If your mobile internet is stable and you have problems only with calls, than a simple model that works with one frequency band will be appropriate in your case.
The third parameter is quite simple. You also need to know where you will install your repeater. Actually, for houses and offices the same models will suit. But if you are looking for a device that you want to install in your car or another vehicle, that's a completely different story.
If you are looking for the best mobile signal booster for your home office or a small summer cottage, we recommend you to consider such models as Nikrans LCD-300GD and Nikrans LCD250-GSM+4G. They both have coverage that is enough for a typical flat or a private house and are able to amplify three types of signal at the same time. You just need to choose the right LTE frequency you need to amplify.
But these variants are not the only ones that you can order. There are many other models available. They are different and can meet different requirements but they all share the same benefits:
Easy improvement of connection without any special efforts from the side of users;
Safety of our devices that are approved by CE and ROHS;
Simplicity of installation;
Support of simultaneous multiple connections;
Excellent price-quality ratio;
Absolute energy-efficiency.
In case you need help in choosing the most appropriate signal repeater, we are always here and are always happy to provide you with our assistance. If you have any questions regarding shipment, payments or installation of our devices, please, feel free to ask.
4.9/5 — 278 Reviews
Coverage: 3300 ft²
$420 $665 You save: $245