How to Choose the Right Booster
MyAmplifiers team has rich expertise in signal amplification. And we are glad to share all our knowledge with you to help you choose the right booster model for your case. Why do we need that? If you choose the correct model and feel 100% satisfied with the choice, we get positive feedbacks and tell your friends or colleagues about us. Keep on reading to get answers to your questions and hesitations.
---
Do you really need a booster?
There are several ways of improving the situation with low mobile signals. And here are the most popular ones:
Changing your provider. Usually people start exactly from changing the mobile operator. It will help only in cases when near your place there is a cell phone antenna of another provider. And if you switch to it, your cell phone will be able to catch signals from the nearby provider's antenna.
DIY antennas. Having tight budget people tend to search for free solutions, and DIY antennas is the most popular one. There are several options, not really effective, but worth trying, according to their authors. Here we describe how to boost cellular signal with the help of the unique homemade mechanism.
Professional signal booster. The only 100% effective way to improve mobile signals of all types – GSM for calls, 3G and 4G LTE for mobile Internet. This solution is not free, but once you get a booster, all mobile issues will vanish forever. Besides, the vast variety of cell phone boosters allows to choose a model exactly for your case.
Now when you are sure that a mobile signal booster is an optimal solution for your case, let's pass on to the next point.
---
How do signal boosters differ and which one do you need?
To choose the right booster, you need to realize what signal type you need to improve.
Phone calls. If you suffer from low audibility during calls or have constantly missed and dropped calls or unsent SMS, your choice is GSM signal boosters. We offer 2 types of GSM boosters – for 900MHz and 1800MHz or 2-in-1 models. The correct choice depends on the working frequency of your mobile operator.
4G LTE Internet. If your purpose is stable and rapid 4G mobile Internet, we recommend one of 4G boosters. Basic models for small offices and apartments and powerful equipment for large houses and supermarkets. Three frequencies for the EU and Asian providers (1800MHz, 800MHz and 2600MHz) and two bands for American carriers (1900MHz and 850MHz).
3G Internet. Another popular type of mobile Internet is 3G (H or H+) that works on 900MHz or 2100MHz frequency bands. For the US, Canada and Australia the frequencies differ.
All-in-one solutions. The most popular signal booster type for contemporary people. No need to buy different devices for diverse signal types, just one compact cell phone booster will boost GSM+3G+4G signals, or GSM+4G signals, or GSM+3G – all popular combinations.
---
Does a standard kit suffice or do you need extra accessories?
Every mobile signal booster is sold and delivered in a full kit that includes every component that you will need for installing and using the device. So once you order a Nikrans booster, you get: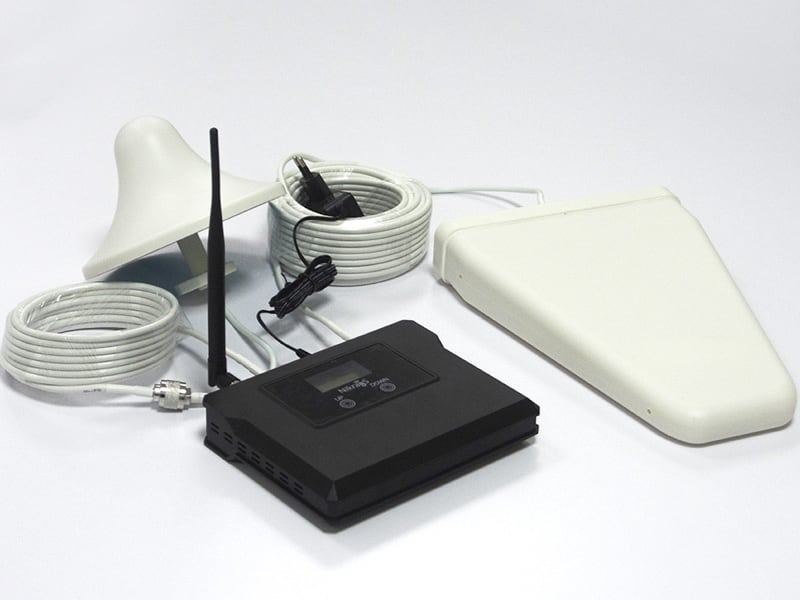 Booster unit. The centerpiece of the kit is doubtlessly a booster itself. It is meant to boost the strength of the incoming and outgoing signals.
Outdoor antenna. Installed outdoors, the antenna catches low signals from providers' cell towers and passes them to a booster unit. We offer outdoor antennas of two types – yagi antenna (directional, 9.5dBi) and panel antenna (directional, 8dBi).
Indoor antenna. The task of the indoor antenna is to distribute improved signals among users within the coverage area. All indoor antennas can be divided into directional and omnidirectional ones. If you prefer to install an antenna on the ceiling and get a signal in all directions – your perfect choice is a ceiling omnidirectional antenna (3dBi). If you prefer to hang an antenna on the wall, choose a directional panel antenna (8dBi). Some booster models go with two antennas, including a basic whip omnidirectional antenna (3dBi).
Cables. You need cables to connect antennas to a booster unit. Usually, cable for an indoor antenna is 5m long, while cable for outdoors is 10-20m depending on a booster model.
In the overwhelming majority of cases such a standard kit meets all client's needs. However, those who take a booster for large locations with multiple floors or of a complex layout, will likely need additional accessories to make the usage of a booster more effective. In every similar case we advise our clients to contact our specialist directly to get professional recommendation.
Once the basic moments are clarified, let's go to some technical details.
---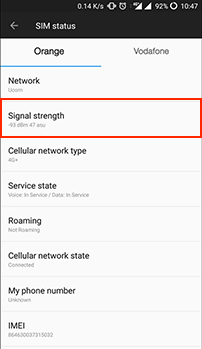 How to measure signal level (dB) for Androd & iOS?
The question is why do you need this? Knowing your dBm you will know for sure if a booster will be effective in your individual situation and where to install the device and its antennas to make its functioning highly productive. Usually, we recommend to find a spot with approximately -90dBm to set up an outdoor antenna. The best places for this purpose are roofs, masts, TV antennas.
Android instructions
A standard testing sequence is the following:
Settings → About Phone → Status/Network → Signal Strength/Network Type and Strength
If the suggested sequence doesn't work, try an alternative one:
Settings → More Options/More Settings → About Phone → Mobile Networks → Signal Strength
---
iOS instructions
For iOS 9 try out the following steps:
Dial *3001#12345#*
Press CALL
Hold the power button for about 5 seconds until you see the "slide to power off" screen.
Do NOT power off the phone!
Hold the home button for about 5 seconds.
You will get to the home screen where the decibel index will be at the top.
For older iOS versions starting from iPhone 5 and newer try the following steps:
Go into Settings, then Cellular
Turn OFF the LTE.
Dial *3001#12345#* and press CALL button.
You will see "Test Mode" and decibel index in the upper left corner.
Once you have decibel data for your phone, you know what signal level is in your place.
-105 to -100 = Bad/drop call
-99 to -90 = Getting bad/signal may break up
-89 to -80 = OK/shouldn't have problems, but maybe
-79 to -65 = Good
Over -65 = Excellent
---
How to get the best price and conditions?
And the last but not the least question, the price and order terms in general. MyAmplifiers is a reliable booster marketplace with perfect logistics and wise pricing. Here are the advantages of buying from us:
3-year warranty. We will replace or repair a broken component of the set for free. More information here.
Best price guarantee. Nikrans is our own brand so we don't resell it, we produce it and deliver to our clients at the best price. In case you have found a cheaper one, read our Best price guarantee.
Moneyback. We care about your satisfaction and rights. You can cancel an order after ordering it or even after getting your parcel. More details are here.
Express worldwide delivery. We collaborate with principal reliable logistics companies and couriers to ensure timely and safe delivery of your parcel. More about our shipping terms.
Professional timely support. Our specialists are ready to respond your questions and request by phone, email or live chat 24/7. We speak English, French, German, Spanish, Italian and Russian.
DISCOUNTS. Every week we have certain models on sale. Also, check your inbox for our special offers with discounts and coupons. If you have missed our last offer but want a personal discount, contact our manager to get it right now!