Hoe u een mobiele signaalversterker in uw huis installeert
Tegenwoordig gebruiken we mobiele telefoons op minder mobielvriendelijke locaties, zoals metro's en liften. De mogelijkheden van mobiele operators zijn echter niet onbeperkt. Inwoners van landelijke gebieden en afgelegen streken, eigenaren en klanten van winkels en showrooms in kelders hebben nog steeds last van een zwak of geen signaal. In dergelijke situaties kunnen signaalrepeaters een grote hulp zijn.
Het installeren van een versterker is snel en eenvoudig. Als we echter met technische apparaten werken, hebben we mogelijk altijd hulp nodig. De eerste assistent bij het installeren van de versterker kan de handleiding voor de mobiele repeater zijn, die u kunt downloaden van de pagina van elk GSM-repeatermodel. Om uw mobiele signaalversterker eenvoudig te installeren, kunt u ook het volgende artikel lezen.
Allereerst moet u weten wat er bij de versterker wordt geleverd.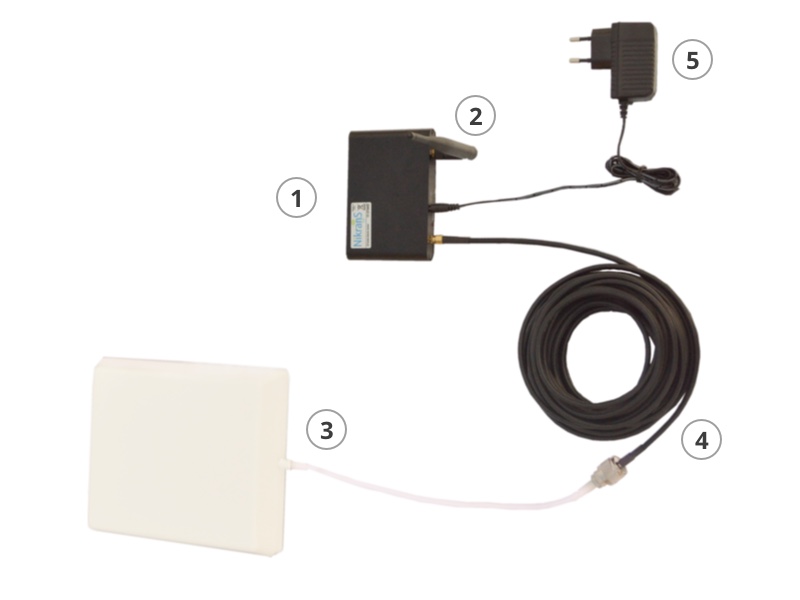 Mobiele telefoon repeater
Omnidirectionele binnenantenne
Buitenantenne
Coaxkabel voor buitengebruik (10 of 15 m)
Stroomvoorziening
Laten we vervolgens beginnen met het installeren van de versterker.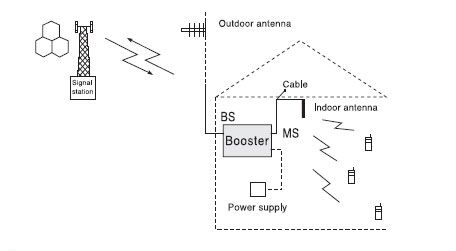 Installatiestappen
Zoek een geschikte locatie voor uw buitenantenne.
Vereisten voor installatie van buitenantenne:
Een buitenantenne moet worden geïnstalleerd op het dak van een huis of ergens anders waar uw mobiele apparaat zich binnen het bereik bevindt. Het mobiele signaal moet sterk zijn, het telefoondisplay moet minimaal drie tot vier strepen hebben.
buitenantenne moet recht worden geïnstalleerd
Verbind de buitenantenne met de mobiele versterker vanaf de BS-zijde en zet stevig vast.
Sluit de binnenantenne aan op de MS-zijde van de mobiele versterker en zet stevig vast.
Vereisten voor installatie van binnenantenne:
De binnenantenne moet 5 meter verwijderd zijn van de buitenantenne
de binnenantenne moet minimaal 2 meter boven de grond staan
de binnenantenne moet verticaal op de grond worden bevestigd.
De versterker op een stroombron aansluiten.
Sommige modellen hebben een ingebouwde voeding. Lees a.u.b. de handleiding die bij uw model is geleverd, als uw signaalversterker kit geen aparte voeding heeft, sla deze stap dan over!
Als het indicatielampje op de versterker gaat branden, is de installatie correct.
Let op: Schakel de repeater pas in nadat u de buiten- en binnenantennes correct heeft aangesloten!
Controleer het signaal van uw mobiele telefoon - het maximale aantal streepjes moet worden aangegeven op het display van uw telefoon in elke hoek van de locatie in het dekkingsgebied van de versterker. Als het mobiele signaal nog steeds onstabiel is, probeer dan de positie van de buitenantenne te veranderen naar een geschiktere positie.
Belangrijke installatieopmerkingen:
Buitenantennekabels mogen niet worden opgerold en moeten zo recht mogelijk worden gelegd om interferentie met signaalontvangst en -transmissie te voorkomen.
De kabels moeten worden ingekort tot het toegestane maximum om het bereik van het mobiele signaal niet te verspillen of te verkleinen.
Maak er een lus in om te voorkomen dat er water via de kabel de signaalversterker van de mobiele telefoon binnendringt.
Houd de buitenantenne zo ver mogelijk verwijderd van frequentieantennes, hoogspanningskabels, metalen netwerken of transformatoren.
Hoe een mobiele signaalversterker in een auto te installeren
We zijn bijna de helft van de dag onderweg. Daarom moeten we tijdens het rijden altijd contact houden met familie, vrienden of collega's. Het mobiele signaal kan echter zwakker worden, afhankelijk van het gebied, het verlies van draadloos zendvermogen en de effecten van afscherming tegen gebouwen kunnen ook echte belemmeringen zijn voor goede mobiele communicatie. Het installeren van een signaalversterker in uw auto kan een redelijke oplossing zijn voor dit probleem. Zo'n apparaat is in staat om GSM-signalen van een mobiel station waar u ook gaat te versterken en ervoor te zorgen dat ze tot een bevredigend niveau worden verbeterd.
Het installatieproces van de versterker duurt niet lang en het is ook eenvoudig genoeg dat u geen technische kwalificaties nodig hebt om het correct te installeren. Om er zeker van te zijn dat u alles correct doet, leest u dit artikel of downloadt u de handleiding van de pagina van het bijbehorende GSM-repeatermodel. Als u extra hulp nodig heeft bij het installeren van het apparaat, neem dan contact op met onze klantenservice medewerkers.
We raden u aan om eerst naar de verpakking van de versterker te kijken. Om de installatie correct uit te voeren, moet u weten wat er in het apparaatpakket zit.

Nu kunnen we direct doorgaan met de installatie van de versterker.
Installatiestappen
Zoek een geschikte locatie voor de antenne in het voertuig (bijvoorbeeld onder de bestuurdersstoel).
Reinig en droog het gebied waar u de antenne gaat installeren. Trek de nylon band strak op de gewenste plaats en lijm het apparaat stevig vast.
Sluit de antenne aan op de antenne-interface van de versterker en zet stevig vast.
Installeer de buitenantenne met twee schroeven op de kofferbak van de auto.
Sluit de buitenantenne aan op de buitenantenne-interface van de versterker en draai de schroeven stevig vast.
Sluit de stroom aan op de sigarettenaansteker.
Als de indicator op de versterker brandt, is de installatie correct.
OPMERKING: Schakel de versterker pas in na correcte installatie van binnen- en buitenantennes!
Controleer het signaal van uw mobiele telefoon. Eenmaal geïnstalleerd, moet het mobiele signaal in het hele voertuig zo sterk mogelijk zijn. Als het mobiele signaal nog steeds onstabiel is, probeer dan de positie van de antennes te veranderen naar een geschiktere positie.
---
Countynet Ltd
01604 552970
team@county-net.com
www.county-net.com
Thierry Anglade
Electricité Générale
2 rue Jean Ferrat15260 Oradour
685700418
thierry.anglade15@orange.fr
Grégory Bambina
GBSINFO - solutions informatique
26240 BEAUSEMBLANTFrance
0612593168
gregory@gbsinfo.fr
https://gbsinfo.fr/
Michel Turgis
TURGIS eurl électricité générale
63, hameau Carré, 50840, Fermanville, FRANCE
07 71 65 06 39
eurlturgis@yahoo.fr
www.eurlturgis.com
SARL Lynxmedia
25 Rue du Maréchal Koenig, 67210, OBERNAI, France
(+33) 03 88 19 07 87
contact@lynxmedia.fr
Philipp Solf
ANGÉLOZ & ASSOCIÉS SA
le canton de Fribourg en Suisse
41264254585
phs@angeloz.com, philipp.solf@laposte.net
Tore Adelsten Klever
Ctech Engineering AS
Selteveien 130N3512Hoenefoss
47 92 89 99 69
tore@ctnor.com
Charles
Network Signal Amplifiers
01 Crescent Road Kylami MidrandJohannesburg
27723303752 / 27110568165
PCCONNECT
159 A UTRECHT STREETVRYHEIDKWA-ZULU NATALSouth Africa3100
27 0349800254
www.pcconnect.co.za
JAGANMOHANREDDY
Lilongwe, Malawi Africa
265993415814
Washington Odhiambo, James Kadenge
Pompey Communications
254 7 3200 0004, 254 7 2274 3223
technical@pompey-systems.co.ke, sales@pompey-systems.co.ke
DPL CONSULTING
Lugar do Cavernelhe,Ent. 7G, 1º Esq.5000-281Vila Real
(+351) 259 043 757
WORLD INFORMATICA Y SERVICIOS
C. Jorge Juan, 6828009 Madrid (España)
34915763139
wis@worldwis.es
www.worldwis.es
C.C.SUR, S.L.
Badajoz, EspañaEl servicio de la instalación porSevilla-Badajoz-Cordoba-Cáceres-Huelva-Almeria
00 34 924 871 528
distribucion@ccsur.es
Leonardo Zaccaria
PugliaConnect di Zaccaria Leonardo
3890967912
info@pugliaconnect.it
www.pugliaconnect.it
CLK Italia srl
via Marie Curie 3
50051 - Castelfiorentino (FI)
+39 0571 1661103
info@clk-italia.it
www.clk-italia.it
Teddy BOA
B.T Informatique
89 Allée des Suretiers, Cité-Chaulet,
97123 BAILLIF
0590 803 305 / 0690 905 439