How to improve 3G Signals and Boost Mobile Internet
A 3G cell phone is a mobile phone, which is compatible with 3G (third generation) technology. A 3G network provides a much faster rate of information transfer. Just like most other mobile networks, 3G can also have periodic reception and mobile network issues. However, execution of certain techniques can help in enhancing a 3G signal. Moreover, since 3G facilitates you to be connected to the internet all the time, a lack of proper phone reception also cuts you off from accessing the web.
How to Improve A 3G Signal
Boosting the network coverage of 3G is not a difficult task, provided you know the best ways of doing so. Our website offers you user-friendly and cost effective devices to boost a 3G signal. The data speed of 3G is directly proportional to the potency of the signal, so boosting its signal also enhances the data speed. A 3G signal amplifier is an easy solution to your 3G network problems.
3G Signal Amplifier
A 3G repeater (3G signal amplifier) is comprises of two antennas -one indoor and one outdoor. While the indoor antenna connects with your cell phone, the outdoor antenna communicates with the cell phone tower. These antennas boost thr 3g signal and improve the 3g reception.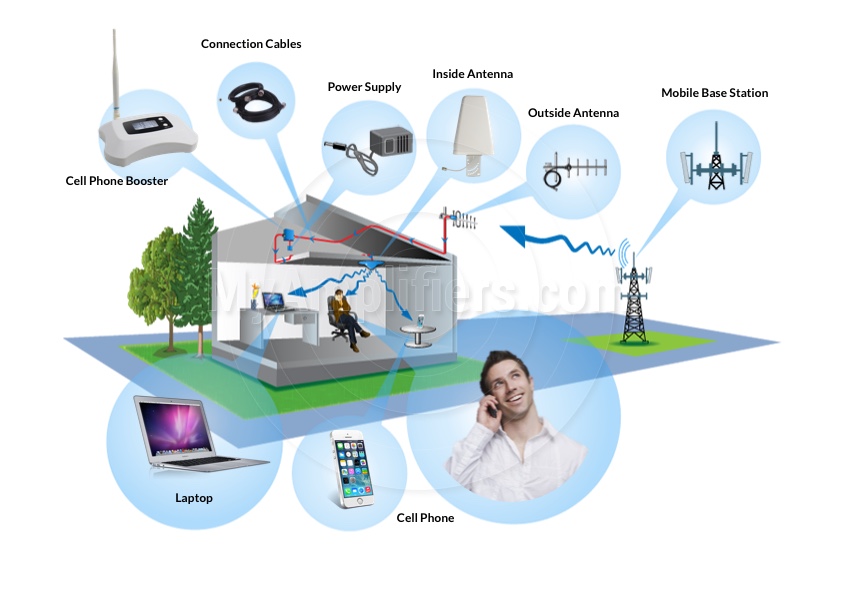 The coverage of the inside antenna depends on the quality of the signal outside. 3G signal amplifier should ideally be placed outside, or near a window, for optimum signal coverage. Another device that helps to boost a 3G signal is a 3G signal amplifier.
Benefits of a 3G Signal Amplifier
A 3G signal amplifier can easily boost a 3g signal and improve the 3G reception. It can be used anywhere, even in your car, for you to get a clear reception. 3G technology requires superior data communication speed, which is augmented with the help of a 3G signal amplifier. It not only enhances the signal strength of your 3G but also increases the life of your phone.
A 3G signal amplifier is easy to install and use, ensuring you get unobstructed usage of your 3G anywhere on the go. This cell phone repeater intensifies the network coverage of your phone, assisting you to use it for voice calls or data usage without any hindrance. In amplifying the 3G signal, it also reduces the amount of radiation generated from your phone, increasing its life span and benefitting your health.
The coverage area of a 3G signal amplifier can be selected dependant on choice and requirement. Our website offers you a wide variety of 3G signal amplifier sets to choose from.
Helping you Learn How To Improve A 3G Signal
3G signal amplifiers not only help you to get a clear reception for your voice calls, like any other mobile signal repeaters and amplifiers, they also enhance the speed of data communication; thus, improving the 3G signal. This can save you from a lot of time and effort, especially when internet connections are extremely necessary.
3G cell booster equipment enhances the connectivity to the web, making sure that you are always in touch with the world. This enables you to manage your personal and professional tasks over the phone, especially when it is impossible for you to be physically present.
More Articles
How To Improve Cell Phone Receptions and Mobile Signals
Mobile phones have become such essential gadgets in our lives that living without them now seems literally impossible. However, a poor cell phone signal reception is a dilemma experienced by almost every one of us at some point in time. Incomplete or no coverage may prove to be a hindrance at times when you desperately need to use your cell phone.
I need 900 MHz booster for Saudi Arabia. How much will it cost?
Hi everybody. Sorry for my English, it can be not very good but I hope that I am able to explain in simple words my huge problem. So what should I start from? Not long ago I bought a big flat. We dreamed about the time we can live not in the centre of the town to have quiet life. But quiet doesn't mean that we don't want to talk with our friends?
The unique homemade mechanism to boost cellular signal
You can try to build your own special mechanism to boost the cellular signal at home. To do this you will need: a piece of iron wire (35-40 cm), 2 connector blocks, small bolt and nut, 10 m of coaxial cable, a piece of a water pipe and a plastic container.