You can suffer from low 3g connection days and nights and try to solve the issue with DIY methods, but there is the only way to improve it once and for all – professional 3g repeater by AnyTone! A great number of people all over the world can't get rid of bad quality of 3g connection inside their houses and offices, garages and parking lots, basements and suburbs and even cars!
So now, at your disposal MyAmplifiers 3g repeaters. This line of 3g cell phone repeaters is an effective weapon in the struggle with a low or weak 3g signal and thanks to their no-failure work all the constituents of 3g environment are guaranteed to be stable. These 3g cell phone repeaters are manufactured especially for the users who suffer from weak 3g signal being in several places. They are compact and practical, effective and reliable! These small and beautiful devices are designed to make you free of frequent disconnections and help you to enjoy mobile Internet and tv, online video calls and chats, social media resources.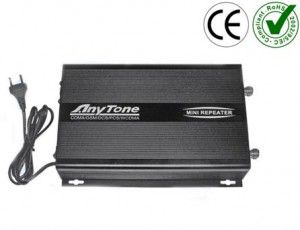 All 3g repeaters work at the frequency of 2100 mhz and suit for improving 3G Internet connection only, not mobile communication. Anyway all our clients we recommend to check the working frequency of mobile operators they use with Search form on our website. So if you need to increase the quality of 3g signal in an area up to 150 m2 you should choose MA-150 3g cell phone repeater. This booster is a very effective appliance that can offset the covering shortage of the base station of the mobile network, expand the coverage of the base station and fill 'the signal blind zone'. MA150 3g cell phone booster is practical and easy to install. For the area up to 250 m2 the model MA 250 3G booster would be the best variant. It's one of the best boosters for middle-sized area, so MA 250 3g booster catches even the weakest 3g signal from the mobile base station and amplifies it on a professional level. If it's needed to increase the large area up to 100 m2 Nikrans NS 1100 3g booster is the best choice.
For those who prefer to have a stable 3g reception on the way or far from home there is NS-3G-A 3g booster for cars. No matter where you drive or travel stable 3g reception is always with you thanks to this 3g cell phone booster. By the way, if you need to boost along with 3g signal gsm reception either, MyAmplifiers gives you an opportunity to amplify both types of signals in one device – Nikrans dual band booster MA1000 GW. The remarkable feature of this booster is to increase gsm and 3g signals professionally and effectively without financial losses for the users and they don't need to purchase two appliances. Don't wait and make an order! For other questions and issues contact our customer service.